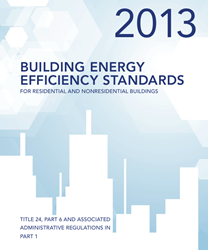 There is clearly an enormous interest among many business sectors about how the new sustainability and efficiency requirements will impact real estate development.
Los Angeles, CA (PRWEB) April 30, 2014
California has long been a leader in pioneering policies for cleaner air, water and fuel. Now the state is taking the fight to greenhouse gas emissions, and embarking on a bold plan to dramatically improve the efficiency of all buildings statewide. On July 1st, new Building Energy Efficiency Standards will become mandatory throughout California. The new code, known as Title 24, Part 6, represents the biggest change in the California Building Code since its inception in 1978.
Promise Energy, a leading provider of solar and sustainability solutions for commercial and multifamily projects, has been educating industry stakeholders and nonprofits on how to successfully navigate these new requirements.
"There is clearly an enormous interest among many business sectors about how the new sustainability and efficiency requirements will impact real estate development," says Andy Mannle, Promise Energy's VP of Strategic Development. Mannle describes a few of the speaking requests the firm has responded to over the past few months, "We've presented panels for the US Green Building Council, the Urban Land Institute, the San Diego Housing Federation, and the LA County Bar Association's annual Environmental Symposium. We recently addressed a nationwide team of Wells Fargo Community Lending officers; and have spoken with numerous local municipal leaders, architects, engineers, sustainability consultants, financiers, and housing developers about the new codes."
"By bringing together some of California's most talented experts in sustainability, architecture, and energy, we have been able to initiate an amazing conversation within the development community," explains Adam Boucher, Promise Energy's CEO. "It is clear that the rules of development are about to change. Efficiency and sustainability are becoming key drivers on all commercial real estate projects in California. With the State's goal of making all new buildings net zero energy in the near future, integrated design and collaboration are becoming essential to delivering projects in a streamlined cost-effective manner."
The new Title 24 requirements include a range of measures aimed at improving energy efficiency and environmental quality in the built environment. These include new insulation and building envelope requirements; increased water conservation measures; as well as more sensors and controls on lighting and mechanical equipment. The new code also requires all roofs to set aside specific zones for solar electric or solar water heating systems; and calls for increased parking for fuel-efficient and electric vehicles.
But it's not just the technologies that are changing, "It's the way the industry operates," says Charlie Kuffner, Chief Operating Officer for Promise Energy, and a 30-year veteran of the construction industry. "The new code places increased emphasis on modeling, testing, verification, and commissioning. It's really bringing construction into the 21st century, and changing the emphasis from tool belts and hardhats to touch screens and hard drives," says Kuffner. "Buildings are being asked to account for the energy they use, and building professionals are being held accountable for energy consumption in the projects they design and develop."
It's been a busy year for Promise Energy. In addition to their education and advocacy efforts, the company is currently working on solar solutions for dozens of commercial and multifamily projects around the state, including over 1000 units of affordable housing. The California Energy Commission delayed the launch of the new code from January to July because the required new software wasn't ready on time. It remains to be seen how changes of this magnitude will impact the development community, and the growth of California's construction sector.
"What is clear," says Boucher, "is that even though California has a long history of implementing cutting-edge environmental policies, the changes taking place in 2014 are just the beginning of a monumental shift toward cleaner energy, smarter buildings, and healthier communities."
About Promise Energy:
Promise Energy Inc, is a full-service solar solutions provider, delivering integrated financing, design and installation for multifamily and commercial projects throughout California and the Western United States. Promise Energy partners with building owners and residents to save energy, and reduce operating expenses with solar water heating and solar photovoltaics. The company is currently working on solar for over 1000 units of affordable housing across Southern California, as well as other market-rate and commercial projects. To find out more, contact us at http://www.promiseenergy.com.