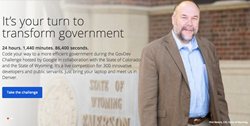 Innovation will be on full display as developers, entrepreneurs and government employees compete to create next generation applications.
Denver, Colorado (PRWEB) April 29, 2014
The inaugural Google GovDev Challenge, a 24 hour live coding competition for innovative developers, designers and public servants, is set to take place May 17-18 at co-working space Galvanize in Denver. Participants will compete for a $19,500 prize pool, have access to on-site training from Google engineers, and each receive a $500 in Google Apps Engine Credits to help them get started using the tools. Modev is actively marketing the event through its network developers and user groups on behalf of Google. Developers, entrepreneurs, designers, public servants and students are all eligible to participate. Individuals can opt to be placed onto an existing team.
The specific challenges put forth by the States of Colorado and Wyoming will be announced at 9 a.m. on May 17th at the event. Participants will then have 24 hours to develop creative applications to the challenges using at least one Google technology and their limitless imaginations. Entrance is free, food and beverages are also provided.
Interested in taking on the challenge? Free registration for up to 300 participants is expected to fill up quickly. http://www.govdevchallenge.com.
Event details:
Google GovDev Challenge
May 17 – 18, 2014
Galvanize, 1062 Delaware St, Denver, Colorado
http://www.govdevchallenge.com.
Event copy:
24 hours. 1,440 minutes. 86,400 seconds.
Code your way to a more efficient government during the GovDev Challenge, a 24 hour live competition hosted by Google in collaboration with the State of Colorado and the State of Wyoming. $19,500 in prizes up for grabs and $500 in Google Apps Engine credits for up to 300 participants. Developers, designers, students and public servants- bring your laptops and meet us in Denver.
Saturday, May 17
8:00 – 9:00 a.m. Registration
9:00 – 12:00 p.m. Opening, API training & team formation
12:00 p.m. Coding starts
Sunday, May 18
11:59 a.m. Coding ends
12:00 – 3:00 p.m. Presentation and judging
3:00 – 3:30 p.m. Awards ceremony
All times are local..
See full terms and conditions here.
About Modev:
Modev organizes meetups, conferences, contests and academies to advance the fields of development, design and marketing of technologies. http://www.gomodev.com
Media Contacts:
Pete Erickson
Modev, founder
703-473-2148
pete(at)gomodev(dot)com
Shawn Broxson
FifteenSixty
Shawn(at)fifteensixty(dot)com
202-308-5866
# # #