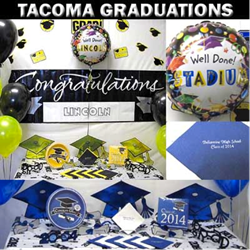 Tacoma, WA (PRWEB) April 29, 2014
Located in Tacoma, Washington since 1979, Party World is ready for the graduation season with an incredible assortment of decorations, balloons, favors, tableware and invitations. To reach their local customers, they have begun a promotional campaign utilizing 30 second television and web spots. They are excited to offer a $500 cash gift for a special graduate. Nominations can be submitted in person at the brick and mortar store, or on their website at http://www.partywedding.com. Plus, customers will find graduation party supplies personalized for each local school and their colors, as well as customizable items for individual graduates.
Graduation party supplies are also available on Party World's website. Customers can have balloons customized and they can order napkins imprinted with their graduate's name or the school name with a date. Plus, swirls, cutouts, balloons, centerpieces, plates, napkins, cups, paper lanterns, and fluffy décor can all be ordered in school colors. Of course, lots of 2014 decorations are available, too – decal kits, banners, cutouts, confetti, centerpieces and signs, as wells as favors such as bracelets, eyeglasses and temporary tattoos.
For the bigger parties, customers will find plastic catering supplies including bowls, trays, pitchers, cups and glasses in all sizes, and utensils - makes serving and clean up much easier. Tableware – plates, napkins, table covers, spoons, forks, knives, and cups – can be found in solid colors to mix and match for school colors, and easier on the pocket book.
"We are excited to offer this opportunity to nominate our local graduates. Tacoma has amazing schools and graduates and it's an honor to include them in our promotion," noted owner Carole Rockne. "Customer service is very important to us, so customizing and personalizing is a great way to make any party extra special."