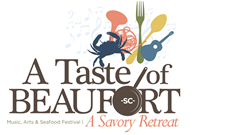 Voted America's Happiest Seaside Town in 2013
Beaufort, South Carolina (PRWEB) April 29, 2014
A savory treat just around the corner in the marshy sea town of Beaufort, South Carolina. A Taste of Beaufort Music, Art and Seafood Festival will be making its 15th annual appearance in America's Happiest Seaside Town named by Coastal Living Magazine featuring cuisine from local restaurants, fresh seafood, beer and wine tastings, and live entertainment. Masterfully woven arts and crafts that celebrate Beaufort's history, an eclectic mix of local bands will grace the Pavillion Stage while enjoying some of the best cuisine that Beaufort, "The Queen of the Sea Islands." has to offer. The festivities begin on Friday, May 2nd at noon- 10pm and then continue on Saturday, May 3rd from 8a- 5pm.
Here's A Taste of Beaufort's schedule of events five minutes from Coosaw Point:
FRIDAY MAY 2nd
Arts & Crafts Market noon- 10pm
Food & Beverage booths 6pm- 10pm
Live Music- The Carolina Soul Band performing selections reminiscent of over 40 years of classic soul favorites. Pavillion Stage 6pm- 10pm
SATURDAY, MAY 3rd
5k run/walk through historic downtown Beaufort, experience the tree canopy lined streets, finish up crossing the famous Woods Memorial Bridge 8am- 11am
Arts & Crafts and Food & Beverage booths 11 am- 5pm
Pavillion Stage all day Saturday featuring Amber and The Fossils, Trey's Alien and Broke Local
Community outreach, preservation of history, fresh fish and local cuisine are just part of the things that make Beaufort, South Carolina one of the best places to live and be entertained. Beaufort is located on Port Royal Island and separated from the mainland by Whale Branch River. Just north of Parris Island, a historical training location for the Marines, this patriotic seaside town is known for where Bubba Gump Shrimp Company began in the movie "Forest Gump" and is where the twelfth season winner of American Idol, Candice Glover was born.
Hunting Island State Park and Beach is just south of Beaufort and is known for its secluded white sand beach and accomodating lodges. Tangling waterways and meandering estuarines that are home to wildlife like Loggerhead turtles, Bottle-nose dolphins and shrimp, revealing Oyster Beds on scattered sand bars at low tide. This sea level island town is a fisherman and boater's paradise. Vast marsh land from low country neighborhoods showcase fascinating shore birds that flock year round making everyday life for Beaufort folk a nature lover's dream. It's no wonder that in 2013, Beaufort, South Carolina was voted America's Happiest Seaside Town in Coastal Living Magazine!
Coosaw Point homes are a charming reflection of historical downtown, Beaufort, South Carolina. It's antebellum style homes quaintly recede back as long walks of green grass land sit beside the wide and slow moving Coosaw River. These charming low country cottages are modestly priced starting in the mid $300,000's and home sites starting below $30,000. Coosaw Point's River Clubhouse is over 11,000 square foot of socialite delight with large verandas offering wide eyed views of marshy grass lands. A large floating dock that has more 200 lineal feet of docking space is located on a part of the Coosaw River which allows easy as access to St. Helen Sound or any waterway system leading you north to Charleston or south to Savannah.
From the walking trails, parks and ponds, to tennis courts and family crab roast at the Crab Shack, residents have plenty to do while enjoying the relaxed style of Low Country living. Property owners voted in a unified voice sharing the depth of their joy living in this Beaufort SC neighborhood which gained Coosaw Point Real Estate Scorecard's most coveted Bliss Award™as The Happiest Community of the Year in 2013. This is just one of the low country sea island communities along the coast where ammenities vary a lot but luxurious lifestyles remain the same.
Amenities at Coosaw Point include:
11,000 Square Foot River Clubhouse
Resort-style Outdoor Swimming Pool
Two Lighted Tennis Courts
Fitness Center
Community Parks
Dog Park
Community Boat Dock
Crab Shack
Lakeside Pavilion with Outdoor Fireplace
Folks searching for the best places to live in coastal South Carolina during A Taste of Beaufort, may regret not seeing The Happiest Community of the Year before they made their purchasing decision.
Call Coosaw Point direct at 843.522.0041 to schedule a tour.
About Real Estate Scorecard:
Real Estate Scorecard writes unbiased real estate reviews providing in-depth information about popular gated communities in Florida, Georgia, North Carolina, South Carolina and Tennessee, all in an effort to help people discover where to retire in the Southeast.
Website: http://realestatescorecard.com