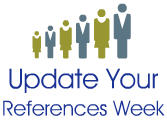 In any case, whether references seem hard or easy to come by, now is the time to get them in line since needing them can materialize seemingly out of nowhere.
Melbourne, FL (PRWEB) April 29, 2014
Resume ready to go? Check. Prepared to handle interview questions? Check. Ready to discuss salary? Check. Able to hand over top-notch employment references to the prospective employer in support of getting that new job? Ummmm…..
For most job seekers, employment references seem to fall through the cracks creating a big surprise (and problem) when they are asked for by the potential employer. Because of this, the global membership organization of resume writers and career coaches, Career Directors International (CDI) is now in its 10th year of promoting the registered holiday, Update Your References Week.
Update Your References Week takes place the first full week of May, meaning this year it kicks off on Sunday, May 4th. While many career professionals perform outreach during this time to educate job seekers on the importance of establishing and maintaining references, it is important that every professional uses this time to take stock of the state of their references.
Some things to consider to bolster relationships with references include:
1. Keep relationships with references warm. In other words, reach out to them periodically throughout the year to say hello, forward a link to an article they might find interesting, or to update on career progress. References otherwise won't be ready to act when needed.
2. Don't keep references in the dark. When an active job search is on, let references know they might expect a call or email. Keep them apprised of the companies being talked to and the positions being pursued.
3. Make sure that all contact information for a reference is up-to-date and current before distributing references to prospective employers.
4. Send thank you cards to references when they have been called upon as a reference. This courtesy will ensure they don't feel taken advantage of and less willing to continue in the role in the future.
5. When a new job is procured, let references know and follow with an updated resume as soon as possible so they are in the loop to help the next time around.
Job seekers who don't feel they currently have strong employment references should not despair. There are many types of individuals beyond former direct bosses who will make great references. Brainstorm on other leadership figures within the company who were aware of the caliber of work performed, group leaders, customers, vendors served, trainers, college and technical teachers/professors, and those overseeing volunteer positions held.
In any case, whether references seem hard or easy to come by, now is the time to get them in line since needing them can materialize seemingly out of nowhere. Take advantage of Update Your References Week to set aside time and get those references updated!
If more information is needed to put a reference list together, visit CDI's Update Your References Week page. There you will find answers to questions such as:
1. Why do references need to be provided to an employer?
2. Who makes a good reference?
3. How many references are required?
Additional free job seeker resources can be found in CDI's Job Seeker site.
About CDI: Career Directors International – http://www.careerdirectors.com
CDI is a global membership-based organization of career coaches, resume writers, and other career professionals who seek to position themselves as industry leaders who make a difference while making an exceptional living. CDI fosters a rich, dynamic, and empowering environment for growth, professional development, career satisfaction, and industry credibility for its members.