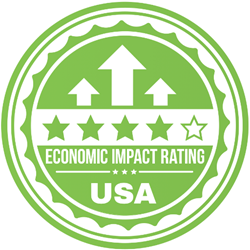 Our hope is that the panel will see merit in our mission to inject life back into a struggling economy.
Rochester, New Hampshire (PRWEB) April 29, 2014
The Economic Impact Rating (EIR) has been elected as a finalist in the Start Up 2014 presented by the Great Rochester Business Accelerator.
The Economic Impact Rating System is a patent-pending third-party certification program and certification mark for products. The rating is on a 5-star scale and indicates the products contribution to the local, regional or USA-wide economy. The EIR mark is placed on a product's packaging or advertising.
The rating was invented Anthony Comito, CEO and founder of EIR. The lifelong New Hampshire resident is excited about being part of the competition. "We were urged to enter the start-up challenge by several people and we're glad that we did," says Comito. "Our hope is that the panel will see merit in our mission to inject life back into a struggling economy".
The rating system is comprised of a small team of under ten members with a Board of Advisors that brings years of experience in their respective fields, including economic development, supply chain research, business development, data security and market research.
Created in 2012, the rating has been featured in publications ranging from Forbes to the Union Leader (New Hampshire) and is quickly acquiring clients from a variety of industries.
"We can already see the rating making a difference," Comito adds. "We were able to help a granola company in New Hampshire direct over $20,000 through the New England economy that was previously being sent elsewhere."
The competition features six other finalists from across the Granite State. The final winner will be awarded over $30,000 in cash and business services such as consulting and marketing development.
The Rochester competition final judging round will be held on May 8th, 2014. The event will be held at 36 Industrial Way in the Ten Rod Road Business Park. The event schedule is from 5:30-8:00pm. Each contestant will provide a three-minute synopsis of the idea and mission behind their product.
The Economic Impact Rating's goal is to make being an impactful company profitable, by giving consumers the information they need to support such companies. The rating is the scientific and trusted way to find products that support jobs and economic growth in your area. For more information, follow them on Twitter or on Facebook.