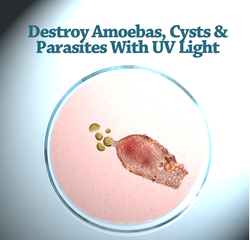 Microbial contaminants can enter public water channels immediately after a pipe break or construction.
City of Industry, California (PRWEB) April 29, 2014
A new report published last week by NATURE Journal of Science has found a parasitic amoeba that lives in the gut and is capable of killing living human cells by eating them alive one piece at a time. Entamoeba histolytica is a single-celled protozoan pathogen that infects an estimated 50 million people a year and causes up to 100,000 deaths worldwide. Unlike its more recently discovered cousin Naegleria fowleri (brain-eating amoeba), E. histolytica has been well known by scientists for over a century. The way that it destroyed human tissues, however, was unclear until now.
Katherine Ralston, a researcher at University of Virginia, made the discovery by observing E. histolytica under a microscope. Human T cells labeled with a fluorescent marker were introduced to the amoeba and within a minute of contact, it had attacked and torn off pieces of the T cells swallowing several fluorescent fragments. Once it had killed a few more cells in this manner, it became even more efficient in the feeding process. Left untreated, E. histolytica can cause lesions and intestinal symptoms or even travel through the blood stream to harm vital organs such as the liver, brain and spleen. In the case of a liver abscess, it can be fatal. Infection can come from drinking well or municipal water that has been contaminated, but fortunately there are several water purification methods that can effectively remove this hazard.
Most tap water sources use chemicals such as chlorine to control E. histolytica and other microbes. While normally effective, the nature of tap water delivery systems is such that recontamination of purified water can still occur anywhere. "Microbial contaminants such as cysts, bacteria and viruses can enter public water channels immediately after a pipe break or construction and make their way to people's homes before a warning is even issued," says Ken Wong, a WQA certified specialist at APEC Water Systems. "We offer reverse osmosis water filters and whole house ultraviolet (UV) lights that treat water at the source of use in the home to offer the final and best line of defense against water pollutants. Our systems can remove up to 99.99% of all microbial contaminants including E. histolytica, Naegleria fowleri and much more to protect your family for many years to come."
About APEC Water
For over 17 years, APEC has been an industry leading manufacturer of high performance residential and commercial water purification systems. Based out of Southern California, APEC specializes in building the highest quality reverse osmosis drinking water systems and backwashing whole house water filters right here in the USA. The company offers their products exclusively through their website at Freedrinkingwater.com which also provides an extensive water filtration guide and library to the public. To learn more about APEC Water and the Total Solution system, please visit http://www.freedrinkingwater.com or call customer service at 1-800-880-4808 for more information.