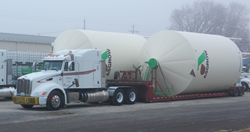 "It is nice to be able to go to one system and have all our required inventory and asset information just a few mouse clicks away"
San Jose, CA (PRWEB) April 29, 2014
Since 1972, East Kansas Chemical has been supplying mid-west farmers with agricultural chemical and seed products at the wholesale and retail levels. The company's Wellsville and Kingsdown locations receive, maintain, and distribute tankers and intermediate bulk containers (IBC's) on a daily basis. In order to improve warehouse operations and keep up with continuously changing government shipping and environmental regulations, the company needed a robust barcode-based asset tracking system.
For East Kansas Chemical, using a paper-based system would be overwhelming considering the thousands of assets that needed to be tracked and the asset data they wished to collect. It was critical to know what product was actively inside each IBC, the history of products the IBC's contained, and their respective maintenance schedules. Without access to this information in real time, warehouse employees could fill the wrong containers and unknowingly mix dangerous chemical substances, resulting in potential legal and health issues. Such complicated operations required a powerful and flexible system that could track tankers and containers the way they needed, at the scope that they wanted.
After considering several asset tracking systems in the market, East Kansas Chemical decided to go with ASAP Systems' Passport because of its configurable features and ease of use. Management and warehouse employees were quickly trained to navigate fluently through the Passport interface to perform daily shipment transactions and view real-time asset data through data fields and reports that they configured. It allowed them to keep track of maintenance schedules and integrity testing as well as locate all assets (both in their warehouses and shipped out to customers). They found that using the new system and mobile barcode scanners integrated seamlessly with previous warehouse procedures. Thus, the upgraded system soon became second nature for employees.
"It is nice to be able to go to one system and have all our required inventory and asset information just a few mouse clicks away," says Gregg Weaver, Sales Representative at East Kansas Chemical.
Click here to read the full case study and read other success stories.
About ASAP Systems
ASAP Systems is a market leader in inventory management and asset tracking systems that uses barcode and RFID technology with Motorola barcode scanners, smartphones, and tablets. We help improve profitability by eliminating manual data entry, paper files, and forms and by automating record keeping. With our inventory and asset software, businesses know 24/7 how and where assets and inventory are received, stored, used and disposed of in the warehouse, in the field, and in the office.