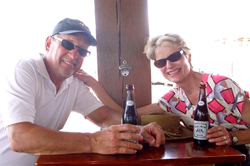 Each chair brings its own challenge due to the fact that water skis vary in length, width and thickness; therefore each chair is truly a 'custom' chair-–they cannot be mass produced.
Whitewater, WI (PRWEB) April 29, 2014
One of the coolest examples of reuse to hit the lake scene will knock you off your feet. And you'll be glad to sit and stay for a while.
The colorful Adirondack chairs sold at Lake House Lifestyle (lakehouselifestyle.com) are hand-crafted by Wayne and Susan Parks from used water skis, and the result is a functional work of art. Wayne Parks says the industrious couple happened upon their hobby-turned-shared-adventure by accident.
"This whole thing got started about 10 years ago when my wife, Susan, saw a picture in a magazine of a chair somewhat similar to the ones we make," says Wayne Parks. "She tore out the page and placed it in a folder in case someday we came across some skis and I could try to make one. A couple of years later I came across some old skis while on a hunting trip in North Dakota. I brought them back to Minnesota, toyed with them in my workshop, and a year later I had my first chair.
"From there we found more skis and made a chair for our cabin, and then another for my wife's sister, and then another for… The first couple of years this was just a fun little hobby that kept me in my workshop."
Wayne and Susan Parks are well-acquainted with the lake lifestyle; they live on the lake and spend their time tracking down skis in lake communities.
"We live most of the time in Alexandria, Minn., where we have a lake place with a small wood shop in the basement," says Wayne Parks. "We retired from our 'real' jobs about 10 years ago, moved to Alexandria and built the lake house we currently live in. Woodworking has always been a hobby.
"We now travel all over the upper Midwest in search of old wooden water skis and have a lot of fun doing it. We scavenge for skis any place we can find them: garage sales, antique stores, pawn shops, eBay or on longer overnight road trips. This has allowed us to meet lots of great people and find the best small-town restaurants Minnesota has to offer.
"It's very tough to pinpoint the time it takes to make a chair, because there are so many pieces to the puzzle. We have to find skis; match skis up in good color schemes; and clean, stain and varnish the skis before even beginning the process of building a chair. Then it requires cutting, sanding, drilling, priming, painting and finally assembling. Then, after the chair is put together, we apply three to four coats of marine varnish. This whole process probably takes anywhere from four to eight days for one chair. Each chair brings its own challenge due to the fact that water skis vary in length, width and thickness; therefore each chair is truly a 'custom' chair–they cannot be mass produced.
"Together my wife of 44 years and I look for and chase down skis. Once we own them, Susan usually takes responsibility for removing the hardware and cleaning them up. Once the skis have been cut, drilled, sanded, primed, painted and assembled into a chair, she gets the finished product and applies the final coats of marine varnish."
The couple didn't set out to be artists and craftspeople, Parks says.
"My wife and I retired from our careers about 10 years ago. I was in education, my final stop being a middle school principal. My wife worked in insurance and in promotions. Susan loves gardening at our lake place, where she cares for more than 500 plants, and I love to work outside, fish, hunt and golf. I was a college athlete and actually signed a professional baseball contract with the Minnesota Twins long, long ago."
These one-of-a-kind chairs are built to order. Non-ski parts such as seat slats are made from white pine, primed and then painted with three coats of exterior enamel in colors to match graphics on the skis. The chairs are assembled with stainless steel fasteners to avoid any rust or corrosion. These and other unique lake house accessories, such as custom 3-D lake maps, can be found at lakehouselifestyle.com.
LAKEHOUSE LIFESTYLE
Lakehouse Lifestyle has been offering their many loyal customers handcrafted, American-made lake gifts and lake decor since 2008. All Lakehouse Lifestyle products are created by artists who are skilled in their trade and who take great pride in the quality, construction and workmanship of their creations. Lakehouse Lifestyle owner Brian Cooney has been a lake dweller for 30 years, so he understands the love that lake house owners have for these retreats and strives to provide products that are not only fun and practical, but that will evoke memories of lazy summer days spent lakeside. As they always say, "Life is better at the lake." For more information on Lakehouse Lifestyle, please visit http://www.lakehouselifestyle.com.