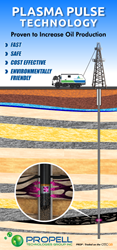 Houston, Texas (PRWEB) April 29, 2014
Propell Technologies (OTCQB:PROP), the exclusive US licensee of a plasma pulse technology for enhanced oil recovery (EOR) today announced the presentation by CEO John Huemoeller II to investors attending the Undiscovered Equities Conference this Wednesday April 30.
In addition to an overview of the company and its technology, investors will hear about the market for the plasma pulse well treatment, its environmental advantages and the company's commercialization plan.
The company's proprietary down-hole tool and well treatment converts standard electricity to create a plasma pulse designed to clear sedimentation that clogs a well's perforation zone and increase permeability of the reservoir resulting in sustained increased oil recovery with no acidization, hydro-fracking or chemicals.
Propell has commenced commercialization with treatments over the last year of dozens of US wells. Click here for US well treatment results.
Propell's tool is being re-engineered with delivery expected Q2, to improve treatment costs and expand its US market with improved compatibility with US wire configurations.
ABOUT PROPELL TECHNOLOGIES GROUP
Propell Technologies Group, Inc. (http://www.propell.com/), through its wholly owned subsidiary Novas Energy USA, is the exclusive U.S licensee of the Plasma Pulse enhanced oil recovery (EOR) well treatment that improves production cost effectively and without acidization, hydrofracking or other chemicals. It develops and commercializes treatment and stimulation of oil wells to meaningfully improve production and enhance the recovery of oil and gas in existing wells.
SAFE HARBOR
This press release includes forward-looking statements of our current expectations and projections about future events. In some cases forward-looking statements can be identified by terminology such as "may," "should," "potential," "continue," "expects," "anticipates," "intends," "plans," "believes," and similar expressions. These statements are based upon current beliefs, expectations and assumptions and are subject to a number of risks and uncertainties, many of which are difficult to predict and include statements regarding the results derived from use of our technology. The forward-looking statements are subject to risks and uncertainties that could cause actual results to differ materially from those set forth or implied by any forward-looking statements. Important factors that could cause actual results to differ materially from those reflected in our forward-looking statements include, among others, the factors described in our on Form 10-K for the year ended December 31, 2013, and any other filings we may make with the SEC. The information in this press release is provided only as of the date written, and we undertake no obligation to update any forward-looking statements contained in this press release on account of new information, future events, or otherwise, except as required by law.