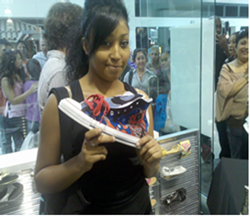 "We want to give kids an outlet for their creativity and show them that hard work really does pay off." - Kofi Amankwa, Shiekh Shoes marketing director
Compton, Calif. (PRWEB) April 29, 2014
High school students from Compton Unified School District have worked over the past month to create unique pieces of art using an unusual canvas—a work boot. This Friday, May 2, the students will display their works at the Shiekh Shoes Community Center in Compton to compete for the Shiekh Shoes Design a Shoe $1,000 grand prize.
Some 50 students from Compton, Dominguez and Centennial high schools were given Timberland boots and 30 days to come up with a design concept and execute the concept by adding materials to the boot, manipulating the form of the boot or, in some way, changing the boot into a complete art piece. The final works will be displayed and judged Friday at the community center where one lucky winner will receive $500 for him- or herself and $500 for the student's school.
"We want to give kids an outlet for their creativity and show them that hard work really does pay off," said Kofi Amankwa, marketing director for Shiekh Shoes. "We hope the prize money can make a difference in the development of a talented artist and the school programs that have helped shape that artist."
Students can also look forward to a collaborative design project during the judging Friday for a chance to win their team another special prize.
Shiekh Shoes previously held a Design a Shoe contest using sneakers as canvases and hopes to continue to bring creative opportunities to students in the community it serves.
For additional information or to attend the exhibit, please contact Leah Thompson at Leah(at)ShiekhShoes(dot)com.
Shiekh Shoes is a footwear and apparel retailer based in California that operates nearly 140 stores in California, Oregon, Nevada, Washington, Arizona, New Mexico, Illinois, Tennessee, Michigan and Texas. Products featured range from athletic shoes and sneakers to women's dress and casual shoes and boots to shoes for the kids. Special offers include new releases and exclusives from top brands like Jordan, Nike and Reebok.
####