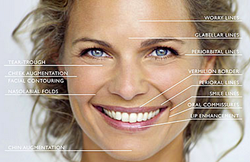 SUMMIT, N.J. (PRWEB) April 29, 2014
Hardik Soni, M.D., Medical Director of Ethos Spa Skin and Laser Centers, now offers both JUVÉDERM® and JUVÉDERM VOLUMA™ XC from Allergan, Inc. to his growing list of cutting-edge anti-aging treatments. JUVÉDERM replaces traditional wrinkle fillers by adding volume to tissue-depleted facial areas, smoothing and softening deep creases for a youthful appearance.
JUVÉDERM is hyaluronic acid gel filler that gives the patient a younger, rejuvenated appearance. Hyaluronic acid is a naturally occurring sugar found in the body that retains water, delivers nutrients, acts as a cushioning agent for the skin, and enhances skin elasticity. JUVÉDERM is available in three formulas, each targeting a different layer of the skin.
JUVÉDERM targets wrinkles, folds and depressions of the face, and augments features like cheeks, brows and the jawline. JUVÉDERM also gives the face s slight "lift", a more relaxed appearance, and a youthful glow. Soni says that JUVÉDERM is one of the best fillers available for lip enhancement, and for smoothing the fine lines above and below the lips. Results can last six months or longer.
JUVÉDERM VOLUMA XC is the first and only filler approved to temporarily correct age-related volume loss in the cheek area, while diminishing moderate to severe wrinkles and folds.
JUVÉDERM VOLUMA XC helps create a more youthful facial appearance by providing natural-looking, long-lasting (up to two years) fullness in areas of the face that have lost volume and elasticity over time. Volume loss in the cheek area is a natural occurrence in the aging process that causes the facial skin to sag or droop. According to Soni, JUVÉDERM VOLUMA XC can reverse this process by replenishing lost fullness.
JUVÉDERM VOLUMA XC is a non-surgical treatment in which the smooth JUVÉDERM VOLUMA gel is injected into the cheek area to gently lift the skin and restore fullness. JUVÉDERM VOLUMA XC is made with Allergan's Vyrcross technology, an advanced process that results in a smooth gel that flows easily and consistently for a natural appearance.
JUVÉDERM VOLUMA XC differs from other dermal fillers in that it adds fullness to sunken areas of the face and is longer-lasting, with results lasting up to two years after just one treatment.
"VOLUMA is a great product for addressing volume loss in the face, because the results are so natural and last so long," Soni says. "So many patients are already benefitting from the volumizing qualities of this product."
For more information on JUVÉDERM, JUVÉDERM VOLUMA XC or any of the expert aesthetic services available at the Ethos Spa, Skin and Laser Center, visit the Ethos Spa website, call the Summit location at (908) 273-5400, or call the Englewood location at (201) 541-6600.
About Hardik Soni, M.D. and Ethos Spa, Skin and Laser Center:
Ethos Spa, Skin and Laser Center Medical Director Hardik Soni, M.D. strives to achieve the best possible results for his patients by drawing on his experience and proficiency with multiple laser platforms, earned from having performed more than 15,000 cosmetic treatments including botulinum injection (Botox and Dysport), dermal fillers JUVÉDERM, Restylane, Radiesse), laser hair removal, chemical peels and laser skin rejuvenation. He is a platinum level injector with Allergan, the makers of Botox and JUVÉDERM; his primary focus is on minimally invasive and non-invasive cosmetic procedures including Aesthera Candela, Cutera, Fraxel, Sciton and Syneron. Soni believes in a more conservative approach to cosmetic procedures, and prioritizes patient education. Clients are able to decide on their own ideal treatment after discussing their options, and weighing the expected outcomes, costs and risks.
He finished his undergraduate studies at Johns Hopkins University in Baltimore, Maryland and is board certified in Emergency Medicine. Soni currently works as an emergency room physician at Overlook Medical Center in Summit, New Jersey, as well as serving as medical director of Ethos Spa, Skin and Laser Center. He was recently chosen to the Advisory Medical Panel of Bella Magazine in New York City.
Ethos Spa, Skin and Laser Center is committed to providing the safest, most effective aesthetic procedures, customized to each individual client, utilizing the latest advances in non-invasive cosmetic treatments and technologies. Within a peaceful, luxurious environment, patients can choose from a wide array of cosmetic services and products to enhance the skin's appearance.