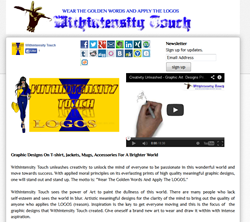 Wear the Golden Words And Apply The LOGOS
(PRWEB) May 03, 2014
Introducing a new company, Withintensity Touch, which aims to give a higher moral excellence by providing top quality highly creative graphic designs printed on apparels. Choosing a custom apparel graphic design is like choosing a tattoo, it is attached to ones personal outlook. Graphic design is a personal statement that will affect a wearers point of view of the world. In most cases, its hard to find unique graphic designs that offer a positive motivational message.
Withintensity Touch sees the power of creative art to paint the dullness of this world. There are many people who lack self-esteem and sees the world in blur. Artistic meaningful designs for the clarity of the mind to bring out the quality of anyone who applies the graphic designs message. Inspiration is the key to get everyone moving and this is the focus of the graphic designs that Withintensity Touch created. Give oneself a brand new art to wear and draw it within with intense aspiration.
Withintensity Touch graphic art designs are imaginatively created by a visionary poet to send a positive message. The art printed on custom t shirts, jackets, mugs, accessories, and other apparels are everlasting and lively. Written inspirational quotes, poetic stanzas, and highly creative meaningful designs will motivate anyone who wears it.
Withintensity Touch graphic designs will truly make the world bright by bringing clarity on vision, emotion, and in thought..By the way, we just released a list of our top selling designs. Check them out now: @ http://www.withintensitytouch.com.