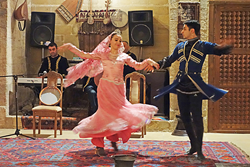 (PRWEB) April 29, 2014
Exeter International's "Discovery of the Caucasus" tour was recently chosen as one of National Geographic Traveler's 2014 Tours of a Lifetime. The 12-day tour is featured in the magazine's May issue and on the National Geographic Traveler's award-winning website.
This unique itinerary offers a deep cultural and historical immersion of The Caucasus, a land of small post-Soviet states considered the natural boundary between Asia and Europe. Travel through Armenia, Georgia and Azerbaijan, visiting remote monasteries, UNESCO world heritage sites and ancient fortresses. Exeter International provides unrivaled access affording travelers with rich, one-of-a-kind experiences, including a recital by the Luys Quintet, a visit to an open air museum of Neolithic rock drawings dating back 12,000 years and a private tour of the Atashgyakh Temple, built on the site of a natural gas vent by Zoroastrian fire worshippers. The "Discovery of the Caucasus" tour will run from September 5-16, 2014.
About Rebecca Recommends:
Rebecca Recommends is a quality, service led company offering representation to independently owned, service orientated, luxury hotels and travel related services. Representing clients from across the globe and selling to the US market, Rebecca Recommends is highly regarded and has superb and longstanding relationships with the US leisure travel trade. http://www.rebecca-recommends.com