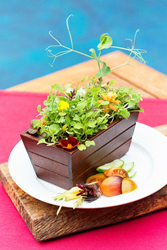 "We wanted the freshest salad possible for our patrons, so we decided to let our customers harvest their own salad."
Kawaihae Harbor, Big Island, HI (PRWEB) April 30, 2014
The Blue Dragon Restaurant on the Big Island of Hawaii, winner of numerous dining awards, has launched what they are calling the "Living Salad" or the Freshest Salad in the World.
Thirty miles north of Kailua-Kona, the Blue Dragon's Chef Noah Hester is the mastermind behind this 21st century salad. With the farm at table concept becoming so popular, Hester thought why not take it a step further. "We wanted the freshest salad possible for our patrons, so we decided to let our customers harvest their own salad," he commented in a recent interview.
Hester went on to explain that a distinctive collection of living greens is delivered right to the table while still growing in sustainable wooden boxes. Small scissors and a seasonal vinaigrette accompany each salad. The salads are also served with baby organic heirloom vegetables.
Gary Cass from Turnip Wagon Farms grows the salads. He worked closely with Hester to make his vision a reality. Cass commented, "The Living Salad is a mix of micro and baby greens, which include upland cress, red Russian kale, Chia, Simpson lettuce, and Mizouna. We carefully plant the seeds in beautiful boxes containing organic soil and naturally grow the salads to maximize flavor and nutrients simultaneously."
Delphina Dorrance, co-owner of the Blue Dragon likens the Living Salad having a pristine farm garden at your table. She said, "Did you know that from the time your vegetables are picked, to the time you buy them at the grocery store, anywhere from a few days to weeks have passed. It is well documented that from the moment salad is cut the leafy greens begin to lose vitamin C and other nutrients. Lettuce is especially vulnerable to damage and may lose up to 50% or more of its nutritional value very quickly. At our restaurant you're actually enjoying the freshest salad possible."
Co-founder, Bennett Dorrance, carry on saying, "Our customers love this salad! Kale, one of the items in the Living Salad, is a very popular salad green that combines a wonderfully distinctive taste with high levels of antioxidant vitamins A, C and K, calcium and phytonutrients. And the dressing is delicious."
Continuing the ongoing wellness trends and healthy consumer preferences, the Blue Dragon's new super-greens salad combines freshness, maximum flavor and nutrient density. Chef Noah says it is his intention to raise the question, "How fresh is your salad?"
Ranked high on social media such as FaceBook and sites like Trip Advisor, the Blue Dragon is the recipient of numerous awards, including North Hawaii's Best: Chef, Live Music, Night Life, Dining Atmosphere, Family Entertainment, and Bartender, as voted by the readers of The North Hawaii News. The Blue Dragon feature fresh coastal cuisine, locally caught fish and daily picked produce from their own organic farm.
For more information or to schedule an interview, please email Jennifer Hackleman at bluedragonmanager(at)gmail(dot)com, visit http://www.bluedragonrestaurant.com, or call 808-882-7771.