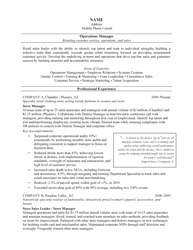 Once a job seeker is intimately familiar with his or her accomplishments, they can become fodder during the job interview and when giving elevator pitches while networking.
Phoenix, AZ (PRWEB) April 29, 2014
There's no doubt about it: looking for a job is as much work as going to a 9–5 gig — except that one doesn't pay quite as well. Scouring the job boards, going to networking events, and sending out resumes can take up many hours of the day, and when it doesn't yield immediate results, job seekers may become frustrated. If outcome hasn't equaled input, it might be time to revisit that career-marketing document, commonly referred to as a resume.
Unfortunately, too many job seekers haven't quite figured out that "resume" isn't a synonym for job application. Truly, a resume is an advertisement for the job seeker, and its goal is to get that person noticed by sharing the value he or she can provide to an employer. "I review resumes all the time, and how most people share their experiences is through what I like to call 'death by bullets,'" says Amanda Collins, chief of staff at The Grammar Doctors, a Phoenix-based content-marketing firm that has been writing resumes since 1996. "They forget to include anything that will make an employer take notice in the mere seconds they'll scan the resume," she continues. According to a study conducted by LinkedIn.com, recruiters spend just six seconds, on average, reviewing a resume — and job seekers need a strategy to make each of those seconds count.
Create a Design that Draws Attention
One of the best ways to draw in readers' attention is to format the resume with a design that is clean and directs the eye where the job seeker wants it to go. That usually starts with name and contact information, succinct title, brief summary that answers the question, "Why should I hire you?", relevant keywords, experience, and education. Pictures are a no-go, as are distracting components such as too much color or a variety of fonts.
Accomplishments Paint a Picture of Value
Within the experience section is where most job seekers begin that laundry list, notes Collins. "Bullets draw the eyes in, which is good for formatting, but if they only say what you did, such as tasks, the reader will stop looking," Collins warns. "A better layout is to lead with a paragraph of 2–3 lines of what you did and then follow that with bulleted, results-based accomplishments." When recruiters and employers review the resume, their eyes will naturally go to those bullets, and when they see words such as generated, achieved, reduced, or increased, they tend to take note.
Accomplishments Go Beyond the Paper
Once a job seeker is intimately familiar with his or her accomplishments, they can become fodder during the job interview and when giving elevator pitches while networking. Collins says that the situational interview questions, such as, "Tell me about a time when…" lead perfectly into accomplishments. "The tried-and-true formula for identifying accomplishments is challenge, action, and result. When an employer asks a job seeker to tell him about a time when something occurred, he is essentially providing the challenge; all the job seeker has to do is fill in the action and result," Collins says.
About The Grammar Doctors
The Grammar Doctors is a content-marketing firm located in Phoenix, Ariz. and working with clients around the globe. They create and implement strategic campaigns that incorporate content across platforms, both online and offline, to help companies reach their goals. The company also writes resumes and career-marketing documents for executives and mid-level managers. To learn more about The Grammar Doctors, visit grammardocs.com or resumedocs.com. Contact Amanda Collins directly at amanda(at)grammardocs(dot)com or 480-518-4462.