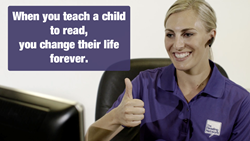 Our mission is to enable people at risk of low reading achievement to reach their full potential through one-to-one individualized instruction with an tutor online.
Ontario, Canada (PRWEB) May 01, 2014
The Reading Network recently launched services to provide one-to-one reading instruction to people with reading difficulties, online. Instruction is provided via web-conferencing to the privacy of clients' homes, anywhere with a high-speed internet connection.
Early Intervention for Reading Problems
The Reading Network is the brainchild of Linda Soehner and Donna Stewart, both retired elementary school administrators with expertise in Reading and in Special Education. They believe in early and timely intervention and access to the extra help needed to address reading problems.
"People who experience reading difficulties often display a weakness in making sense of the phonological system, never becoming fully fluent readers," says Stewart. "We help people who may just need a little extra help, as well as those who may have learning disabilities or dyslexia."
"We provide the type of instruction and treatment that research has shown is needed," says Soehner, who was the creator of the face-to-face program on which The Reading Network's system, was developed.
The Reading Network website cites the supporting research of Dr. Sally Shaywitz, Dr. Norman Doidge, Dr. Linda Seigel and others for their systematic, targeted approach to reading intervention that addresses student weaknesses and capitalizes on strengths. They also make a case for synchronous online tutoring.
Access to Tutoring Services Anywhere
Having lived in a rural area, Soehner and Stewart knew that many people could not access private services easily if they wanted to supplement their child's school or homeschool program with extra reading help. They began to experiment with online methods to deliver a method and system of instruction that Soehner had developed and they knew was effective.
Services include:

assessment to place students in our program
45 minute weekly instructional sessions
follow-up resources for parents to use during the week
an online community of support for parents on TRN Link
"We invite potential clients to book a "Test Drive" says Stewart, to get a feel for our services and ensure they have the technology required.
A video about their services and a tour of their learning environment is available on their website. Clients can sign up for a Test Drive before registering for services, register online and schedule appointments using an online booking tool. A parent or a caregiver accompanies the child online during instruction becoming a partner in learning and supporting the child between sessions with follow-up resources and suggestions from the instructor.
Soehner said, "We are committed and passionate about helping our clients succeed because we know that when we teach someone to read, we change their life forever."
"This is very rewarding work," adds Stewart. "We couldn't be more excited to be offering it to so many. We are going to teach a pile of kids to read."
Visit The Reading Network website at http://www.thereadingnetwork.com for more information.
About The Reading Network Inc.
The Reading Network provides one-to-one reading instruction to people with reading difficulties, online. Via web-conferencing and an online delivery system, caring, competent instructors provide the intensive, targeted instruction struggling readers need to meet their full potential. Students and families can obtain the extra help they need in the privacy and comfort of their home, no matter where they live. Take The Reading Network's services for a Test Drive by visiting their website at http://www.thereadingnetwork.com.
Contact:
Donna Stewart
President
The Reading Network Inc.
519-534-1345 519-855-1345