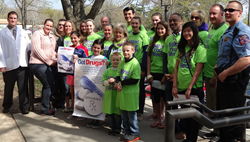 Proove Biosciences is proud to sponsor socially responsible initiatives like National Drug Take Back Day. - Brian Meshkin, CEO, Proove Biosciences
Irvine, CA and Annapolis Junction, MD (PRWEB) April 29, 2014
Proove Biosciences, the leader in personalized pain medication innovation, proudly sponsored and participated in National Drug Take Back Day, this Saturday April 26 in Howard County, Maryland, and Irvine, California. HC DrugFree hosted the event at multiple locations throughout Howard County, Maryland in order to make it more convenient for all residents to participate.
HC DrugFree is a non-profit based out of Howard County, Maryland established to respond to the alarming number of teens using illegal substances in the community. Over the years, HC DrugFree has expanded as more high schools around the county became involved in providing substance abuse education.
"As a growing business and member of both the Howard County, Maryland and Orange County, California communities, Proove Biosciences is proud to sponsor socially responsible initiatives like National Drug Take Back Day. We are committed to helping stop drug dependence and abuse by ensuring patients and physicians are making the most informed decisions regarding prescription drug selection and dosing," stated Proove Biosciences Founder and President, Brian Meshkin. "Ensuring prescription medications are responsibly disposed of is key to reducing the risk of teen abuse. Spreading the awareness of this issue is foundational to Proove's mission of reducing narcotic dependence risk and increasing safety through genetic testing and risk assessment."
In Howard County, Maryland, the Howard County Police Department collected over 1,030 pounds of medications, and a record-number of needles, syringes and EpiPens. This collection was a 166% increase over last April's collection event and a 20% increase over last October's event.
About Proove Biosciences
Proove Biosciences is the leading Personalized Pain Medicine laboratory that provides proprietary genetic testing services to help physicians improve outcomes for patients and contain costs for insurers. With offices in Southern California and the Baltimore-Washington metropolitan area, the Company is the research leader investigating and publishing data on the genetics of pain medicine with clinical research sites across the United States. Physicians use Proove Biosciences testing to improve pain medicine selection, dosing, and evaluation of medications they prescribe. From a simple cheek swab collected in the office, Proove performs proprietary genetic tests in its CLIA-certified laboratory to identify patients at risk for misuse of prescription pain medications and evaluate their metabolism of medications. For more information, please visit http://www.proovebio.com or call toll free 855-PROOVE-BIO (855-776-6832).