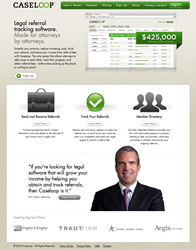 Los Angele, CA (PRWEB) May 23, 2014
Today is the official launch of Caseloop.com, the first attorney case referral tracking software platform targeted at the billion dollar case referral market. Designed by three California attorneys, Caseloop helps attorneys easily track and manage case referrals to and from other attorneys.
In a market where simply retaining a client and referring them to another attorney is often worth 25 percent of the total fee recovered, a way to effectively keep track of referrals was needed. "I had not received a single referral fee in three years," says Marc Phelps, a co-founder of Caseloop. "Even though I was referring out cases consistently. I realized that I had no simple way to track what was going on with those cases, and was probably losing out on thousands of dollars of revenue."
Because lawsuits can linger in the courts for years, attorneys lose track of the status of cases they refer to other lawyers, and with them, their entitlement to a referral fee. Caseloop seeks to remedy that problem by offering referring attorneys a snapshot of all of their referred cases, including how far along towards a settlement or verdict each case is. The "referred to" attorneys provide updates as requested. The system also contains a national directory that allows members to refer their cases to lawyers in other states or practice areas. 
Co-founder, Scott Cooper notes "Caseloop provides an added resource most small firms otherwise wouldn't have - the ability to refer cases to other attorneys in other states across a broad range of practice areas and track those cases, while at the same time expanding their personal network of contacts."
In the internet age, attorney advertising for potential clients has turned almost exclusively to search engine optimization and pay per click campaigns, which can be prohibitively expensive. For a low monthly fee Caseloop allows its members to be listed in its national directory, obtain referrals, and track case status. 
"Attorneys often lose sight of the fact that running a small firm or solo proprietorship is a business first and foremost, and law school doesn't teach those skills" says co-founder, Roger Carter. "Caseloop was created to allow these businesses to run efficiently, generating referral income and slashing marketing budgets while allowing attorneys to do what they do best, be lawyers."
To learn more about Caseloop, please visit http://www.caseloop.com