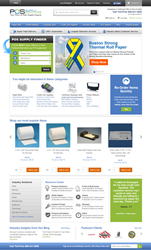 The website was re-designed from the ground up with optimized customer experience at the center of each and every development decision.
Danvers, MA (PRWEB) May 19, 2014
POS Supply Solutions, Inc. announced today the launch of their newly redesigned website - which not only delivers improved functionality but also includes a host of new user-friendly features. "The website was re-designed from the ground up with optimized customer experience at the center of each and every development decision," said Mark Fitzgerald, Director of Marketing / Digital Commerce. The site boasts of visually driven navigation and intuitive user tools that make searching, shopping and managing orders easy - from single-store pizza shop's to dealers that service hundreds of retail accounts.
The most common products and categories are accessible with a single-click right from the homepage. Long-time customers of POS Supply will be delighted to find "filtered" searching (aka "faceted navigation") - where narrowing or broadening a search by common attributes (such as subcategory, size, color, application, etc.) is presented in context to any search or category navigation.
With regard to the Mobile-Centric design, CEO Stephen Enfield said, "We recognize more and more that mobile devices are a fixture in day-to-day business life - so we made sure to develop a website that not only looks fantastic, but works seamlessly from PC to Tablet to iPhone."
One of the newest features is the POS Supply Finder, which allows customers to identify the make and model of their POS hardware, and click to see the paper rolls, printer ribbons or other products that correspond with their specific equipment. "This is a great tool for those newer customers who may be unsure of what they need," says Enfield.
The "My Account" Dashboard is being touted as the "secret sauce" of the new design. Customers have full visibility to their order history, package tracking, and helpful management tools. For example, "Quick Re-Order" displays a list of previously purchased items which can be added to a cart, paid for and processed for fulfillment in a few simple clicks. "My Account" features additional tools such as Order by SKU, Re-Order by Item, Re-Order by Prior Orders & Manage Stored Payment Information. The improved features will make ordering easier than ever and will allow customers to better manage supplies for their respective businesses.
"One of the crowning achievements," says Enfield, "is our ability to provide 'Intelligent Shipping Rates' to our customers."
"On the previous platform, there was no means for us identify the actual inventory origin, so all rates were calculated as if being shipped from our Danvers, MA warehouse. For our west coast customers, this often produced un-necessary sticker-shock on the shipping rates. The truth is, we always had the items shipped from the closest warehouse to the customer, and would adjust the billed amount accordingly." He was eager to follow that up stating, "When customers login or provide a destination zip code, our new system automatically calculates shipping from the closest warehouse with availability - saving our customers on time-in-transit and actual shipping costs."
"Now that's a WIN-WIN!" exclaimed Enfield.
Press related questions should be directed to marketing(at)possupply(dot)com. Questions regarding the launch, site features or POS Supply products can be directed to the POS Supply Customer Success team via email to cs(at)possupply(dot)com or toll free at 888-431-5800.
About POS Supply Solutions
POS Supply Solutions provides point of sale and transaction supply solutions, serving a full spectrum of hospitality, retail, financial, taxi, medical, wireless and business transaction applications. Established in 1999, POS Supply Solutions' corporate facility is located in Danvers, MA with distribution warehouses strategically located across the United States. Over the past 13 years, POS Supply Solutions has worked with thousands of companies to ensure they receive the point of sale supplies needed for successful and efficient business operations. POS Supply Solutions was proudly named to the Inc. 500|5000 list of fastest growing companies of 2011.
Contact:
Stephen Enfield
President
POS Supply Solutions
(978) 406-4230
senfield(at)possupply(dot)com
http://www.possupply.com