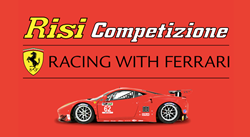 "We are very excited to show what goes into creating one of the most winning Ferrari teams in the world," said Giuseppe Risi, Founder and Team Principal of Risi Competizione.
Austin, TX (PRWEB) May 28, 2014
Cinsay the leader in social video commerce and Risi Competizione, the top Ferrari racing team in North America, have announced today an exclusive multi-year agreement to create a pre-eminent GT racing broadcast channel. The Channel will feature exclusive programming, live streaming inside Risi's race facilities, behind the scenes video, social interaction with drivers and crews and syndicatable on CINSAY's multi-patented video ecommerce technology.
Timing for the venture comes during Risi Competizione's rising increase in fan awareness and series wins. Founded by Giuseppe Risi in 1997, the Risi Competizione team has won multiple prestigious races and championship titles with Ferrari's GT racers over the years including the IMSA Cup Championship, the American Le Mans Series, the Rolex Grand-Am Sports Car Series and three class wins at the 24 Hours of Le Mans in 1998, 2008 and 2009.
"We are very excited to show what goes into creating one of the most winning Ferrari teams in the world," said Giuseppe Risi, Founder and Team Principal of Risi Competizione. "The RisiTV racing site will be the world's first opportunity for fans to see inside a Ferrari GT race team's inner workings. Each week we will take fans on an educational ride by showcasing new content including, 'how we do it all' segments. They'll be able to see how the crew rebuilds a gearbox or brake system. Everyone all over the entire world will be able to Watch, Shop, and Share all live streaming and archived videos as well as interact with our drivers and crew and meet other passionate fans of Ferrari racing," he added.
Race fans will be able to ask questions and chat with crew and famed drivers Giancarlo Fisichella and Pierre Kaffer to learn about everything that goes into preparing for each race as well as watch testing and race preparation of cars between race events.
Along with the exciting, exclusive video, fans will be able to purchase officially branded merchandise and apparel inside each video or at the ShopRisi.com site that features Cinsay's own in-house made to order, OnDemand items from t-shirts, jackets and smartphone covers to one-of-a-kind and limited number collectibles available only through the network.
Fan-Base for High-end Car Racing on the Rise:
Cinsay is building on the momentum of auto racing's growing popularity across IndyCar and higher-end race series. In fact, IndyCar Series is predicting ticket sales to increase between 20-25% in 2014 alone. Based on that and similar research, Cinsay has already expanded into the racing circuit by partnering this year with the legendary IndyCar team, Andretti Autosport to add AndrettiTV.com and ShopAndretti.com to its growing entertainment and commerce channels.
"2014 marks the first year of the new Tudor United SportsCar Championship series which will be televised for the first time and this presents a great opportunity for Risi Competizione to jump onboard and ride the wave of growing interest in specific niches of auto racing around the world," shared Christian Briggs, Founder and CEO of Cinsay. "Fans can follow live broadcasts in HD from the garages, the pits and interviews at the races while at home in their living rooms or on all mobile devices," he added. "Where else in the world can someone watch a Ferrari 458 GT or an F430 being torn down, re-built and painted just in time for the next race?"
Everyone watching will be able to create free online accounts and share the individual videos via social media sites like Facebook, twitter, tumblr and others. Many of the videos along with the associated merchandise, embed and have full functionality as the content is shared across multiple sites and devices globally.
"With Ferrari and Tudor – part of the Rolex Group – involved, you have two of the world's most recognized and most powerful brands represented in the GT series. We're poised to see continued growth of the Tudor series and it should be an exciting future for Risi Competizione fans," added Briggs.
About Cinsay, Inc:
Austin-based Cinsay has created a next-generation e-commerce, viewer interactive, video-based platform for any size business. Cinsay's syndicatable technology enables anyone to sell products, display printable coupons, capture donations, and generate leads all inside its multi-patented Video Smart Store™ (VSS) technology. Along with being the premiere video commerce provider for small and medium businesses, Cinsay is adding new exclusive content channels for sports, music and movies aligned with partners including Andretti Autosport and Suretone Entertainment and has been selected as a software provider to SMBs via Yahoo's Commerce Central.
Forbes named Cinsay one of "America's Most Promising Companies" while eTail Conferences named Cinsay a "Rising Star in innovation" for 2012. Red Herring also selected Cinsay for the "Top 100 Companies in North America" for 2014. Cinsay's eCommerce video-based platform can be used for any individual or business. For more information, please visit Cinsay.com or call 855-725-2462.
One or more of the following patents may protect Cinsay's software, systems, and/or services. See http://www.cinsay.com/patents. U.S. Patent Nos. 8,312,486, 8,533,753 and 8,549,555 for interactive Internet-based video applications.