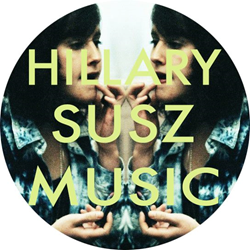 This genre-blurring single takes on the demon of adolescence by provoking the rock n' roll sensation of feeling alive.
Seattle, WA (PRWEB) May 07, 2014
The official music video for Hillary Susz's SWAT Team premiered last Friday night as a feature of Bellingham, Washington's First Friday Art Walk. At the event, Hillary played a short acoustic set following the premier. SWAT Team is the second single off of Susz's electro-pop record What Mouths Are Made For.
The video follows Hillary on an aimless mission through the labyrinth of youth. The song is driven by dark images and a refrain of shifting perspective. This genre-blurring electro-pop, dark party, dance single takes on the demon of adolescence by provoking the rock n' roll sensation of feeling alive.
Hillary Susz teamed up with cinematographer Hayley McVay three months prior to begin the project. As a cinematographer, Hayley's work is inspired by light and shadow, and speaks through image. Hayley said, "I am honored to have worked with Hillary on this project and am excited to share it with you all now."
About Hillary Susz
Hillary Susz is a Western Washington University graduate in Creative Writing. Her lyrical voice runs through the odds and ends of the ironic, heartbreaking, and haunting aspects of existing as a sensitive young woman in a world populated by cliché's and people aspiring to live in them. Hillary currently lives in Seattle, WA. She has shared the stage with national acts such as The Head and The Heart, Nurses, The Jesus Rehab, Br'er Rabbit and Robert Sarazan Blake.
"Her sound is raw and chaotic," Spokane Metro Magazine. Her voice has been described as a "powerhouse" and her songs as "unusual and beautiful" by What's up Magazine and as "emotional, spiritual, and intellectual and vibrant," The Spokesman Review.
Her discography includes: Solo: Hot Heart 2012, Junk Yard 2011, The Stare Well Sessions 2010, Love is Perfect 2009. With Tommy Trzcynski: What Mouths are Made For 2013. Her most recent What Mouths Are Made For is a pop album that both embraces and reinvents the term. Hillary's influences include Nina Simon, Neko Case and PJ Harvey.
For more information please visit http://www.hillarysusz.com
About Hayley McVay
Hayley McVay is a graduating senior at Western Washington University with an interdisciplinary concentration in Video Production and Film Studies. Her film "Ride" placed 1st in Western Washington University's 48 Hour Film Festival and was showcased at the Washington State Studio Network 2013 film festival. Her film "A Part" placed 2nd at Western Washington University's 48 hour Film festival this spring and received the Audience Choice award. Her experimental video "Change" was showcased by Jeopardy Magazine's literary webzine Suffix.
More of Hayley's work can be found here: http://www.vimeo.com/hayleymcvay