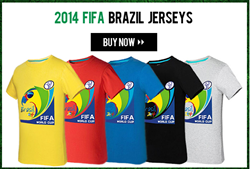 HK, China (PRWEB) May 01, 2014
The promotion which is set to run up to the end of April will see shoppers buy World Cup clothes such as football jerseys of the teams that will take part in the upcoming FIFA World Cup at discounted prices. The FIFA 2014 Brazil jerseys that will be sold during this promotion are available in different sizes and colors. They also sold at different prices depending on the materials used.
Apart from the jerseys, there are other items that are also attached to this promotion. In other words, the promotion also touches on other items that are usually used by fans in cheering their favorite teams. Such includes trumpets, T-shirts, short pants, swimwear and various national flags of the 2014 World Cup participants. The T-shirts are in particular designed in a way that will tell in an instant the team they are supporting.
Shoppers who will visit http://www.tidebuy.com during this promotion period will also have an opportunity to buy FIFA World Cup 2014 accessories equally at discounted prices and will certainly save a lot of cash.
"We want all the fans who are gearing up to attend this year's World Cup in Brazil to feel part and parcel of this great tournament and that is why we decided to discount these items in order to allow them buy as many as possible at very affordable rates" said one of Tidebuy International senior officials during the launch of the FIFA World Cup 2014 promotion.
For those looking forward to do their shopping at tidebuy.com, it is worth taking note that this giant online shopping platform accepts payments from selected payment methods only. They include, PayPal, MasterCard, Western Union and Bank Transfers.
The shipping is usually done through EMS and DHL. The items are shipped straight to the client, his location notwithstanding.