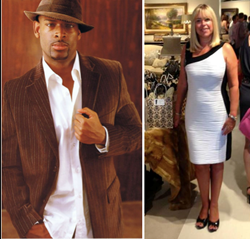 We stand for quality, sexiness and comfort, says Adriana Viano, President of UnderCover MensWear.
Yorba Linda, CA (PRWEB) April 30, 2014
UnderCover MensWear is exposing the fine art of comfort, support and sexiness in their lines of ergonomic, directional, and scented underwear along with loungewear, bathing suits and socks.
A recent agreement with French Underwear Company, Boxair by PSR, creator of scented novelty trunks for men, was recently reached and authorizes exclusive distribution and online sales of Boxair by PSR underwear through the men's underwear e-commerce boutique, UnderCover MensWear (dot) com.
"We are so happy to announce our partnership with the USA," expressed PSR Founder and CEO, Patrice Sheikboudhou, "Thanks to our exclusive distributor…. UnderCover MensWear Inc."
The Boxair line from PSR, are 100% French made and have a delightful scent. Designed by a famous French Perfumer, the microcapsules will recharge the boxer when it is stored in its original case, however the scent will last within the fabric of the garment up to 5 washes. The Boxair line of underwear from PSR, are now available exclusively at UnderCover MensWear e-commerce boutique.
Owner, Adriana Viano says, "I am really excited to add Boxair by PSR to my collections. They are uniquely scented and really sexy. I can't wait to share them with everyone, especially with my returning clients who are already used to the high quality and uniqueness of UnderCover MensWear products.
Retailers, department stores, resorts and boutiques can inquire about wholesale pricing of Boxair by PSR at customercare(at)undercovermenswear(dot)com
UnderCover MensWear carries other underwear lines to include Cahoonas, a directional S pocket trunk allowing men's privates to rest in their preferred direction of dress while maintaining muscle compression on the upper thighs and buttocks. SAXX-an ergonomic underwear designed to fit better. Each pair features a breathable inner ergonomic comfort pouch that keeps you supported and incredibly comfortable for whatever your day entails. Also available, BedHead loungewear for men, Pull-In bathing suits and Falke socks.
About UnderCover MensWear: UnderCover MensWear specializes in ergonomic, new-to-market, high quality underwear, loungewear, bathing suits and socks from around the world. UnderCover MensWear carries over 100 different styles of briefs, boxers and trunks within their different collections: Silk, Ultimate Sexy, Couture, Ergonomic, Luxury, French, ScentSensual, Fit and Comfort. And exclusive distributor and online retailer of Boxair by PSR.
Media inquiries, please contact:
SoCal TV & PR - Publicist
lisa(at)socaltvandpr(dot)com
www(at)socaltvanpr(dot)com
949-697-1606
Adriana Viano – President/CEO UnderCover MensWear
customercare(at)undercovermenswear(dot)com
714-812-2845
www (dot) undercovermenswear (dot) com
Facebook: https://www.facebook.com/undercovermensw
Twitter: @UnderCoverMensW