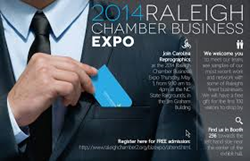 Raleigh, NC (PRWEB) April 29, 2014
Please join and support Imaginovation, a Raleigh based web design and software development firm, who is holding booth #338 at the Greater Raleigh Chamber of Commerce Business Expo at the NC State Fairgrounds!
This premier networking event features 200+ business showcasing their products and services. Admission is free and anyone can register online at http://www.raleighchamber.org/bizexpo. The show is open from 9:30 a.m. until 4 p.m. Over 3,000 business professionals usually attend this expo and it is well known to be a great source for networking, branding, awareness, and offers a massive opportunity for building business growth.
Imaginovation has prepared and worked to the bone in order to get their new software product out for people to see at the expo, which is the first of its kind in the market. The web-based application is known as Testimonial Central http://www.testimonialcentral.com or TC as they like to call it. The product was essentially founded on the premise of assisting and empowering companies globally by getting more out of reviews while eliminating the burden on current and past clients. The application is a centralized location that allows the registered TC user to inquire their clients to write a review through the system, which then offers them flexibility to distribute the reviews via Facebook, Twitter, Google Plus, and more social platforms to come in later phases.
If anyone is interested in trying out the software, visit the TC website mentioned above to receive a 15 day free trial. Testimonial Central is a division of Imaginovation, who is Raleigh's turn-key provider for custom web design, software development, and digital marketing services. For more information on what Imaginovation offers, visit http://www.imaginovation.net.