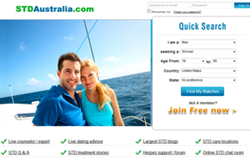 herpes dating australia
Los Angeles, California (PRWEB) May 16, 2014
STDAustralia.com, Australia's largest dating website that assists people living with sexually transmitted diseases such as HIV, Herpes, HPV and other STD's find love and happiness, has today announced the results of the keyword analysis it carried out on the city names that were frequently searched by its members on the site. The results reveal that Sydney, Brisbane, Cairns, Newcastle, Gold Coast, Townsville are listed as the top 6 cities that are most searched by its members.
Among the top six cities, Sydney ranked first, having a 29 percent search yield. Brisbane followed in second place with a 22 percent search rate and Cairns came in third place with a 16 percent yield. Newcastle (13 percent), Townsville (12 percent) and Gold Coast (8 percent) came in fourth, fifth and sixth positions respectively.
The selected keywords by STDAustralia.com's members can show the certain interests or intentions of its users. When people search a city name, chances are that they want to find a match or some friends who come from that particular city as they might also be from the searched city.
For people who live with sexually transmitted diseases such as Herpes, HIV, HPV, or other STD's, long-distance relationships do not seem to be too much of a problem, especially for the users of an STD dating site such as STDAustralia.com. According to a survey carried out by the STDAustralia.com team, almost half the members on the dating site do not mind long-distance relationships. They have no preference on the proximity between them and their desired match. However, as time goes by, members can see that dating others with an STD isn't as difficult as they first thought, which then sees them change their preference to dating other members that are much nearer to them; preferably within the same city.
STDAustralia.com provides amazing services for STD infected people specially living in Australia as it helps people get closer to each other. It's great that people do not really concern themselves with the distance when dating or making friends.
STDAustralia.com is so much more than a simple online STD dating site as it provides a platform on which people can share their passions, experiences and feelings with those who are in a similar state. Members need not worry about being rejected, isolated or discriminated by others on the website as STDAustralia.com provides a warm community for anyone in Australia and for those that are infected with Herpes, HPV, HSV and other know STD's.