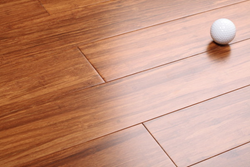 (PRWEB) May 03, 2014
Recently, BambooIndustry.com, a long-time provider of premium quality bamboo floors, has proudly launched a special offer on its beautiful click strand woven bamboo flooring, up to 30% off.
According to the website of BambooIndustry.com, click strand woven bamboo flooring is the click lock profile of regular strand woven bamboo flooring. The click strand woven bamboo flooring from BambooIndustry.com comes with a Valinge click license. These bamboo flooring products have a good market performance, which leads to a fast growth of BambooIndustry.com in 2013.
The vice president of BambooIndustry.com, said, "I think the promotion will make all our customers very happy. Our bamboo products have been so popular since the first day we were in the industry. Now, we are launching the promotion to show our appreciation to our clients. The low prices we are offering will provide our customers with the best value for their money available on the bamboo flooring market."
The professional designers of BambooIndustry.com will help clients make the whole effect planning, from beginning to the end. The vice president stressed, "If you have any questions about our click strand woven bamboo flooring, please feel free to let us know. We welcome the global bamboo distributors to visit our factory in China. Online inquiries will be responded within 24 hours."
About BambooIndustry.com
BambooIndustry.com is a website that belongs to BothBest Bamboo Flooring Co. Ltd., a professional supplier and exporter of bamboo products. Certified by both ISO9001:2008 and ISO14001:2004, the company has 8 years of experience in the manufacturing and wholesale of bamboo flooring products. It strives to bring its customers the latest styles and innovations of bamboo flooring, bamboo paneling, bamboo plywoods, bamboo furniture, and other bamboo products.
More information about the business and its bamboo flooring products can be found at http://www.bambooindustry.com/products/bamboo-flooring/click-strand-woven-bamboo-flooring.html.