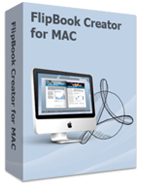 (PRWEB) May 01, 2014
Flippagemaker.com, a software company providing digital publication publishing tools for homes and businesses, has announced FlipBook Creator for Mac is developed to be compatible with Mac OS 10.5.6. Available on flippagemaker.com, the software lets users convert PDF files into flipbooks. Users can create realistic books with double pages and 3D effects.
In addition, the software provides extras such as pre-designed 3D templates, 2D themes, and over 20 flip styles. Flipbooks can be viewed on many different portable devices, including iPads, iPhones, and Androids. The common PDF file quickly becomes more interesting to read, with user-friendly controls allowing even novice designers to complete an e-book in minutes.
Compatible with the Mac OS, the software differs from similar products because the company does not only make software for Windows. Designers also have the benefit of multiple output options to choose from. Flipbooks can be created in HTML, ZIP, and EXE formats or burned to a CD. They can also be converted to Mac App format so viewers can see it online or offline. Many options are therefore available to customers.
With a single purchase of $99, FlipBook Creator for Mac comes with free lifetime updates. Customers need only purchase the product once. It also has a 30 day money back guarantee following a secure download.
Aside from the Mac version, there is also a Windows 8, 7, and XP version of the software. A Pro version is also available. For more information on FlipBook Creator for Mac and its compatibility with Mac OS 10.5.6, go to http://flippagemaker.com/.
About FlipPageMaker, Ltd.
FlipPageMaker, Ltd. provides digital publishing tools that let users create online and offline publications. Targeting home and business users, the company sells PDF to FlipBook and Office to FlipBook tools. Based in China and Hong Kong, it was established in 2008 and works with customers around the world.