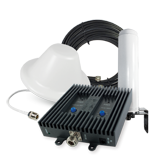 (PRWEB) April 29, 2014
People need to keep connected indoors and outdoors. Recently, Excel Wireless, a renowned cell phone booster company, has introduced its new collection of cell phone boosters; it hopes to help people enhance their wireless phone coverages.
The cell phone boosters from this company are equipped with a host of features that will keep the users on the line, connected and secure. They can operate perfectly at the frequencies of the chosen mobile provider and enhance the communication effect in the desired places. Excel Wireless aims to provide customers a one-stop solution that will expand in-home wireless voice and data coverage.
"Our cell phone boosters can enable you to make calls from indoor locations where outdoor cellular coverage does not reach. The devices work like a miniature cell phone tower at your desired place offering enhanced coverage for up to a 5,000 square foot area. Our staff online is ready to hel customers buy high quality cell phone boosters before they make a buying decision," the CEO of Excel Wireless says.
Moreover, Excel Wireless has recently updated its website, which now features the hot-selling models cell phone boosters on the market. The company promises to help people worldwide to choose cost-effective products to enhance cellular signal for multiple cell phones and cellular data cards simultaneously.
About Excel Wireless
Excel Wireless (Excel-Wireless.com) is a well-known supplier of cellular amplification and wireless communication systems with a focus on cell phone boosters. The business has many years of experience in the industry with a trackable record that it has cooperated with many companies, universities, military and government agencies and communities in all sizes around the world. For more details of the company and its products, please visit: http://www.excel-wireless.com/