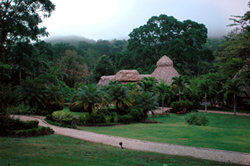 "Our Belize vacation packages have enough structure so that guests can pack a lot of activities in their time here, and enough flexibility that they're not compelled to do more than they want to."
San Ignacio, Belize (PRWEB) May 01, 2014
The Lodge at Chaa Creek is starting a new Educational Summer Holiday program and inviting families, couples and individuals to take part in this new approach to summer vacations, according to the Belizean eco-resort's marketing administrator.
Roberto Harrison said that the push towards educational and interactive summer vacations are causing more people to rethink how to spend their summer vacations this year.
"It used to be enough for people to just get away from the pressures of work and school, have a change of location and take a break. But that sometimes turns into in boredom after a few days," Mr. Harrison said.
"People now want to get more out of their holidays and come away with enhanced knowledge or experience, rather than a few trinkets or tee-shirts," he added.
Mr. Harrison said that adventure resorts such as Chaa Creek are responding to this trend by offering vacation packages designed to be informative and stimulating as well as relaxing.
"People can still have a relaxing holiday in a pristine natural setting with an infinity pool, private verandas, hammocks, a lounge, fine dining and all the other traditional accoutrements, but with the options to learn new skills or develop new interests such as birding, horseback riding, canoeing, exploring the temples and cities of the ancient Maya Civilisation, natural history and more.
"Chaa Creek's All-inclusive Belize Vacation Packages offer something for everyone, so that families have a great time discovering new things together and can work on broadening their horizons and not just their waistlines over summer vacation," Mr. Harrison said.
Another advantage of all-inclusive vacations is that everything needed for the summer holiday is included for one affordable set price, Mr. Harrison had, taking away the need to plan for every detail and the worry about budget blow-outs.
"Chaa Creek sits within a secure 365 acre private nature reserve with miles of trails along the banks of the Macal River and some 70 ancient Maya sites recorded on the property, as well as stables with horses to suit every level of experience, a fleet of canoes, a, Butterfly farm, a professional Spa that was recently highlighted by the Gayot Guide, as well as the educational Belize Natural History Centre, Maya Medicinal Plant Trail, traditional Maya Organic Farm and much more.
"We are often referred to as Belize's 'Destination within a Destination' for good reason. We offer a complete Belize experience right here, and there's a nearby airstrip with regular flights to Belize's Caribbean Coast, the Belize Great Barrier Reef and cayes for those who want to combine a Caribbean beach holiday with a rainforest experience," Mr Harrison said.
Mr. Harrison pointed out that the wide range of affordable all-inclusive vacation packages covering a many specific interests have built-in flexibility, so that guests can do as much or as little as they wish during their holiday.
"Our Belize vacation packages have enough structure so that guests can pack a lot of activities in their time here, and enough flexibility that they're not compelled to do more than they want to. Sometimes lounging by the pool or in a hammock with a good book and cool drink is the perfect way to spend the day.
"But if guests want to take on new challenges or learn something together with professional guides while having a great time together, this is the way to do it, and this summer will be the time to make it happen.
"We believe that sharing adventures and learning new things together is a wonderful bonding experience for families and friends, and Belize is one of the most diverse, fascinating places on earth to do that," he added.