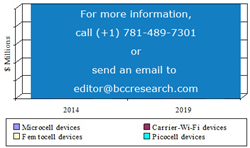 Global Market for Small-Cell and Carrier-Wi-Fi Devices to Treat SLE to Reach $9.1 Billion in 2019
Wellesley, Mass., (PRWEB) April 29, 2014
BCC Research (http://www.bccresearch.com) reveals in its new report, OPTIMIZING NETWORKS: GLOBAL MARKETS FOR SMALL CELLS AND CARRIER WI-FI the global market for small cell and carrier-Wi-Fi devices is expected to grow to $9.1 billion by 2019, with a five-year compound annual growth rate (CAGR) of 16.6%. The femtocell devices market, the fastest growing regional segment overall, is growing at a tremendous 32.1% CAGR.
Cellular mobile devices have moved from simple communication tools to full-fledged lifestyle products, spurring a virtual explosion of Web traffic. Small-cell femtocell devices, the largest segment in the overall market, is expected to grow to nearly $1.8 billion by 2019.
Picocell devices, the second fastest moving segment, is projected to reach $1.2 billion by 2018 and register a CAGR of 25.6%.
"Small cells are now looked upon as tools that can facilitate targeted services to scattered, yet lucrative customers," says BCC Research information technology analyst Shalini Ramamurthy. "This realization is prompting stakeholders such as equipment vendors and cellular operators to pay closer attention to small cells. What also helps is that small-cell categories such as femtocells are practically plug-and-play devices requiring little operator attention."
OPTIMIZING NETWORKS: GLOBAL MARKETS FOR SMALL CELLS AND CARRIER WI-FI provides an overview of the global market for small cell and carrier-Wi-Fi devices, including analyses of global market trends, with data from 2012 and 2013, estimates for 2014, and projections of CAGRs through 2019. Markets for these devices are broken down by individual country, including the U.S., Canada, Brazil, Mexico, Germany, France, Italy, the U.K., Spain, Turkey, Israel, China, Japan, India and many others. In addition, it presents information on the nature of these devices in end-use applications, specifically factories, residences, offices, public spaces, and under-serviced regions.
This report provides a multidimensional breakdown of the small-cell and carrier-Wi-Fi-device market. It will be of value to interested in where this market is headed over the next five years.
Editors and reporters who wish to speak with the analyst, should contact Steven Cumming at steven.cumming(at)bccresearch(dot)com.
About BCC Research
BCC Research publishes market research reports that make organizations worldwide more profitable with intelligence that drives smart business decisions. These reports cover today's major industrial and technology sectors, including emerging markets. For more than 40 years we've helped customers identify new market opportunities with accurate and reliable data and insight. These include, but are not limited to, market sizing, forecasting, industry overviews, and identification of significant trends and key competitors. We partner with analysts who are experts in specific areas of industry and technology. Their up-to-date knowledge gives our customers unbiased measurements and assessments of these vital markets. Because our reports offer a global focus, our customers include the top companies in industries around the world as well as universities, major business schools, start-ups, consulting firms and investment companies. BCC Research is a unit of Eli Research LLC.
Data and analysis extracted from this press release must be accompanied by a statement identifying BCC Research LLC, 49-2 Walnut Park, Wellesley, MA 02481, Telephone: (+1) 781-489-7301; Email: mailto: editor(at)bccresearch(dot)com as the source and publisher. Thank you.