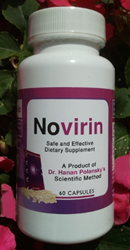 The ultimate hope is to develop drugs that eliminate dormant (latent) HSV from the nerve cells. - Dr. Stanberry (1)
Rochester, NY (PRWEB) May 01, 2014
Researchers report that "an experimental drug could eventually offer a new treatment option for genital herpes (HSV-2), a common and incurable sexually transmitted infection (1)." The drug is designed to work differently than current drugs on the market. "The hope is that pritelivir will be better at preventing transmission of the virus (1)." However, Dr. Richard Whitley said that "There is still a lot of research to be done," and that the study on pritelivir was only a "proof of concept" at this time. Since pritelivir and other next generation drugs are still in early research phases, polyDNA recommends that individuals who want to help their immune system target the latent herpes virus talk to their doctors about Novirin. This effective, natural treatment option was shown to reduce symptoms of a herpes infection in a post-marketing clinical study that followed FDA guidelines.
Current treatment options for herpes infection include topical and oral treatments. Drugs taken by mouth include "penciclovir, acyclovir, famciclovir, and valaciclovir. However, their effectiveness is limited. For instance, a meta-analysis of five placebo-controlled and two dose comparison studies evaluated the effect of aciclovir, famciclovir or valaciclovir on symptoms. The meta-analysis showed that oral antiviral therapy decreases the duration and the associated pain of an outbreak by merely one day." (See Pharmacology & Pharmacy, from September 2013) (2). Dr. Anna Wald, lead researcher on the pritelivir study said that "Even with that daily treatment (with approved drugs), there is still viral shedding and the drugs cut HSV transmission by only about half. Clearly, we'd like to do better (1).'" In other words, current drugs do not stop viral shedding. Even while taking these drugs, infected individuals can still transmit the virus to their partners.
"HSV-2 is spread through oral, vaginal or anal sex. The Centers for Disease Control estimates that one out of every six people in the United States between the ages of 14 and 49 has genital herpes, with 776,000 people newly infected each year." (See MedicalExpress.com, from March 26, 2014) (3).
Dr. Lawrence Stanberry said "The ultimate hope is to develop drugs that eliminate dormant (latent) HSV from the nerve cells (1)." Dr. Stanberry is an infectious disease expert at Columbia University Medical Center/NewYork-Presbyterian Hospital, in New York City.
Dr. Stanberry's statement is extremely important, and every physician should take note of it. Followers of the current paradigm believe in only treating individuals with the active virus, and not in treating individuals infected with the dormant (latent) virus. The FDA even states on its website: "Some viruses, however, can enter a state known as latency in which the virus is not being replicated. In the latent state, the virus does not cause disease." (See the FDA, from October 24, 2001) (4). As a result, current standard medical practices don't target latent viruses. In contrast, again, Dr. Stanberry says that his "ultimate hope is to develop drugs that eliminate dormant (latent) HSV from the nerve cells (1)."
While there are no drugs yet that target the latent (dormant) HSV, there is already a natural remedy called Novirin that was designed to target the latent or "dormant" (as Dr. Stanberry calls it) herpes virus. Novirin shares the same formula as Gene-Eden-VIR. The difference between the two is that Novirin has higher quality, more expensive ingredients. The Novirin/Gene-Eden-VIR formula was tested in two post-marketing clinical studies published in September 2013 and March 2014, respectively, in the peer reviewed medical journal Pharmacy & Pharmacology. However, Novirin contains higher quality, more expensive ingredients. These ingredients were selected to fight the latent herpes virus even more effectively than Gene-Eden-VIR.
Interested individuals can view the two published studies here, http://cbcd.net/Gene-Eden-VIR-Clinical-Study.php and http://cbcd.net/Gene-Eden-VIR-Decreases-Fatigue-Clinical-Study.php.
In a post marketing clinical study published in September 12, 2013 in the medical journal Pharmacology & Pharmacy in a special edition on Advances in Antiviral Drugs, researchers showed that the product that delivered the Novirin/Gene-Eden-VIR formula is safe and effective (2).
Additionally, up to 70% of those studied reported a decrease in symptoms associated with a latent viral infection, and users of the Novirin/Gene-Eden-VIR formula experienced an increase in overall health (2).
Each ingredient of Novirin was chosen through a scientific approach. Scientists scanned thousands of scientific and medical papers published in various medical and scientific journals around the world to identify the highest quality, safest, most effective natural ingredients that target latent viruses.
A second clinical study showed that the Novirin/Gene-Eden-VIR formula decreased physical and mental fatigue. (See Pharmacology & Pharmacy, from March, 2014) (5).
Individuals can learn more about Novirin at http://www.novirin.com. All orders of Novirin are completely confidential, and no information is shared or sold to any third party. Privacy is assured.
References:
(1) Experimental Drug Shows Promise for Genital Herpes. Published on January 15, 2014.
http://www.webmd.com/sexual-conditions/hpv-genital-warts/news/20140115/experimental-drug-shows-promise-for-genital-herpes-treatment
(2) Gene-Eden-VIR Is Antiviral: Results of a Post Marketing Clinical Study. Published in September 2013.
http://www.scirp.org/journal/PaperInformation.aspx?PaperID=36101#.UzPyRKiSz90
(3) Study predicts threshold of viral load for passing herpes from one person to another. Published on March 26, 2014.
http://medicalxpress.com/news/2014-03-threshold-viral-herpes-person.html
(4) U.S. Food and Drug Administration (FDA) (2001) Long term Follow-Up Of Gene Transfer Patients. 31st Biological Response Modifiers Advisory Committee Meeting Gaithersburg, Maryland.
http://www.fda.gov/ohrms/dockets/ac/01/briefing/3794b1_01.htm
(5) Gene-Eden-VIR Decreased Physical and Mental Fatigue in a Post Marketing Clinical Study That Followed FDA Guidelines; Results Support Microcompetition Theory. Published in March, 2014.
http://www.scirp.org/journal/PaperInformation.aspx?PaperID=44234#.UzPymKiSz90
polyDNA is a biotechnology company that develops dietary supplements using the unique scientific method developed by Dr. Hanan Polansky, which is based on Computer Intuition.
In addition to his unique scientific method, Dr. Polansky published the highly acclaimed scientific discovery, called Microcompetition with Foreign DNA. The discovery explains how foreign DNA fragments, and specifically, DNA of latent viruses, cause most major diseases.
polyDNA developed Gene-Eden-VIR, an antiviral natural remedy that helps the immune system kill latent viruses.