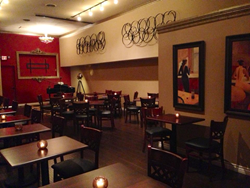 the owner was looking for new, stylish chairs that would help make a statement and also last a long time
Lodi, CA (PRWEB) April 29, 2014
Leading restaurant furniture manufacturer and distributor Affordable Seating recently helped The Rusted Mic in Lodi, California by providing them with new restaurant chairs, bar stools and table tops for a successful grand opening.
The Rusted Mic is an intimate upscale entertainment house featuring a variety of acts: jazz, blues, piano, comedy, open-mic nights, throw-back movies, live shows and private events. Clientele socialize in a sophisticated, swanky theater environment with access to an espresso bar, wine, beer and an exclusive menu offering a variety of specialty food selections and desserts that showcase Lodi's most notable restaurants.
The versatile venue has state-of-the-art audio, video and lighting with plush seating for an audience up to 75 guests. The front lobby and patio seating areas are open daily at 6:00 a.m. with the focus being on the espresso bar, pastries, free wi-fi and social meeting atmosphere. Evenings focus on live entertainment complemented by specialty coffee drinks, wine, beer, small plates and desserts.
The multifaceted venue allows for the front portion to always remain open for business, while the back portion hosts private events; during the day or corporate training. Business meetings can utilize the 80" movie screen to do a PowerPoint presentation, while a comedy show, blues concert or other event can be booked that evening. When the back portion is not dedicated, it is open for the general public to enjoy. There is always a visual on the movie screen accompanied by music courtesy of the baby grand player piano. The Rusted Mic also has a vintage cinema theme housing one of the most distinguished and vigorous entertainment scenes in downtown Lodi.
"As a venue that brings in a wide variety of customers and experiences heavy traffic every day, the owner of The Rusted Mic was looking for new, stylish chairs that would help make a statement and also last a long time," Affordable Seating sales representative David M. explained.
"The owner contacted Affordable Seating for new commercial chairs, bar stools, table tops and bases because of their reputation for high quality at competitive prices", explained Dave. "He decided to go with Affordable Seating's Premium US Made Leonardo Wood Chair and matching bar stool in dark mahogany finish and padded black vinyl seats."
The Premium US Made Leonardo Wood Chair sells for $78 and also comes in a matching bar stool which sells for $89. Customers can choose from 6 different finishes or have a custom finish made for an additional charge. Customers also have the choice of a solid wood seat or an American made padded seat made of vinyl or other fabric which can be custom upholstered.
For table tops he decided to go with solid wood table tops in matching dark mahogany finish with bullnose edge. Like the chairs and bar stools, the solid wood table tops are also made in the USA.
To view Affordable Seating's full selection of restaurant chairs, bar stools, booths, tables and patio furniture visit http://www.affordableseating.net or call a customer service representative at (888) 495-8884.
The Rusted Mic is located at 14 S. School St. in Lodi, CA. They can be contacted at: (209) 625-8336.