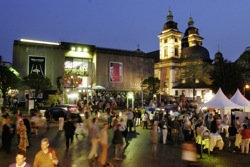 An amazing discovery trip through an art lover's paradise at night.
Düsseldorf, Germany (PRWEB) April 30, 2014
On May 3, 2014, 40 museums and galleries in Düsseldorf, one of Europe's art capitals, won't close their doors at the end of the day. Instead, they'll welcome about 25,000 art lovers to enjoy and explore art from 7:00 PM – 2:00 AM all over the city. The annual "Night of Museums" in Düsseldorf is a hugely successful concept that unites the city's art venues for an amazing discovery trip through an art lover's paradise at night. The city's great museums and galleries are included, as are lesser known and off-site art spaces. Art masters and their modern and classic masterpieces are as much part of the mix as young and new artists, performances, concerts, movies, readings, and even culinary art. All events are accessible through one ticket, with free transportation around the city.
This year's Night of Museums will make the city an art double feature because it coincides with Düsseldorf's "Quadriennale" (April 5- August 10, 2014), the every-four-years city-wide arts festival, making the Quadriennale exhibits another major visitor magnet and highlight of the night. Under the theme "Beyond Tomorrow – How Artists See and Saw the Future," Quadriennale includes the following exhibits: "Alchemy and Art – The Secret of Transformation" at Museum Kunstpalast, featuring works by Joseph Beuys, Jan Brueghel d.Ä., Albrecht Dürer, Max Ernst, Rembrandt van Rijn, and Peter Paul Rubens; "Kandinsky, Malevich, Mondrian - The White Abyss of Infinity" at K20 Museum; and "Beneath the Ground. From Kafka to Kippenberger" at the K21 Museum.
In addition to first-rate exhibits, an elaborate program of art performances will heat up the night, such as the "Alchemy Experiment Kitchen" and a (sweaty) human disco ball at the Museum Kunstpalast; exotic live music by Dsama M'butu Arkestra at KIT (Kunst im Tunnel – Art in the Tunnel), and disco-like sounds from Buconvina by Shantel at the NRW-Forum. A totally different sound and style will greet visitors in Düsseldorf's district Bilk, where sacral vocals will fill the Basilika St. Lambertus – but expect a major contrast at the cloister's square with music by Karibik-Groove. After marveling and moving to the art and music, visitors can enjoy a late-night snack of Pierogis and Polish Sausages (Krakauer) at the Polish Institute.
Visitors don't only get to look at art, they can also create it. Japanese graphic art will be taught in a workshop at the Hetjens-Museum, Shakespearean acting at the Theatermuseum, and a crash course in film script writing at the Filmmuseum (Movie Museum). And if you'd like to see a movie in a church that night, you can: the masterpiece "Back to the Future" is shown in its original at a church (Auferstehungskirche).
Music and dancing are taken to another level at the night's closing parties. The main event takes place at the Quartier Bohème, and events at off-locations include a hip hop and funk dance party at the Boui Boui in Düsseldorf's district Bilk, and at the venue "reinraum."
Tickets for the night are € 12.00, and include free transportation between the night's venues. For holders of Düsseldorf's Art:card – a card that provides free access to Düsseldorf's museums for an entire year – the attendance at Night of Museums is free.
Düsseldorf's tourism office is offering hotel and city specials for many of the city's events throughout 2014, including the Night of Museums. The package, called "Düsseldorf à la Card," can be booked right from the tourism office's website at https://www.duesseldorf-tourismus.de/en/hotel-packages/duesseldorf-a-la-card/. Prices start at €49 per night per person based on double-occupancy for a 2-3-star hotel in the city center and at €95 per person for a 4-star hotel. The package includes breakfast, one DüsseldorfCard (free public transportation within city limits plus 30 free or reduced admissions to city attractions), and a city information package. Please check the website for current information.
For more information about Night of Museums and to purchase tickets, please visit: http://www.nacht-der-museen.de.
For more information about the destination Düsseldorf, please visit: http://www.visitduesseldorf.de.
Düsseldorf Marketing & Tourism GmbH is the visitors and convention bureau of the city of Düsseldorf. Its responsibilities include tourism and city marketing, as well as conference and meeting marketing, hotel reservation services, fairs and convention services, city event ticket sales and advance ticket reservations. For more information, visit http://www.visitduesseldorf.de.
Düsseldorf Airport, Germany's Next Generation HubTM, offers several non-stop flights from US & Canadian cities (Atlanta, Chicago, Ft. Myers, Los Angeles, Miami, New York, Newark, Toronto), as well as convenient connections to many European cities. For more information about the airport, visit http://www.dus.com.