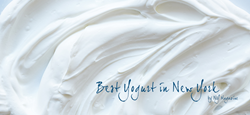 We're proud to offer an exceptionally pure, healthy, and delicious yogurt.
Brooklyn, NY (PRWEB) April 29, 2014
Sohha Savory Yogurt (http://www.sohhayogurt.com), in its first year of operation, was named "Best Yogurt" in New York by New York Magazine. The magazine issues a yearly review in March of the "Best of New York" offering recommendations on food, beauty, nightlife, fun, and shopping. The article can be found here.
Sohha Yogurt founders John and Angela Fout were excited by honor, especially considering their business is just nine months young, and that New York Magazine praised the yogurt so wholeheartedly:
"Made with Hudson Valley Fresh milk, sea salt, and live cultures, the yogurt is produced in small batches and frequently; every cup is fresh and smooth, with a labne-like, exceptionally creamy texture."
The editors of NY Magazine sampled the yogurt at Sohha's one-of-a-kind stand at Chelsea Market found at 425 W. 15th Street in Manhattan between 9th and 10th Avenues.
"It's clear that sourcing from local dairies and producing in small batches makes for a unique and tasty product," said Sohha Savory Yogurt's co-founder Angela Fout. "We're proud to offer an exceptionally pure, healthy, and delicious yogurt."
Tipped off by New York Magazine, Florence Fabricant of The New York Times visited Sohha's Chelsea Market stand to taste for herself. "Serving Greek yogurt unsweetened, with vegetables or spices, is a trend, one that Angela and John Fout are happily promoting with Sohha Savory Yogurt," Fabricant wrote in the Times. "Mr. Fout and his wife, whose family is from Lebanon, [are serving the yogurt in Chelsea Market] topped with cucumbers, olives, radishes, avocado, and scallions; seasonings like za'atar, olive oil, and "everything" (as in "bagel")."
Sohha Savory Yogurt is sold at farmers' markets in New York City, Brooklyn, and Westchester, in stores in Brooklyn and Manhattan, and is available online through Good Eggs in Brooklyn and sohhayogurt.com in Manhattan. Or visit Sohha's stand in Chelsea Market to buy the yogurt by the container or to try the yogurt served with fresh toppings.
About Sohha Savory Yogurt
Founded by Angela and John Fout, Sohha Yogurt believes that food should be wholesome and made from the highest quality ingredients. When their daughter Savana turned six-months-old, they couldn't find a yogurt on the market that was pure and wholesome enough to feed her, so they fed her Angela's homemade yogurt, using her family's recipe. Today they produce savory yogurt made from only three ingredients: locally sourced premium milk, unprocessed sea salt, and probiotic cultures.