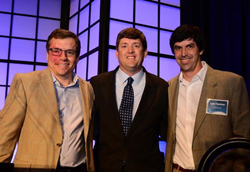 Atlanta, GA (PRWEB) May 01, 2014
A-1 Express, a recognized leader in same-day delivery, messenger and transportation services, is awarded as the second fastest growing company in the private sector in Atlanta, Georgia. The same-day courier is honored to receive such a prestigious award, highlighting its' continued success within the courier industry. A-1 Express pursues to be the best choice in same-day courier solutions throughout the US.
A-1 Express was recognized at the 19th. Annual Pacesetter Awards, held by The Atlanta Business Chronicle. The event honors Atlanta's 100 fastest growing private companies. The companies are ranked by a growth index formula, measured from 2011 through 2013. The index is also used to balance the field between various company sizes.
The courier company more than doubled its' revenue in 2012, from $6 million to $14.5 million in 2013. With a nationwide retailer partnership, the Atlanta courier has expanded its' services to deliver consumer products same-day in several California cities. The large retailer will also launch the service in other major markets throughout the US, including Atlanta. Whether it is an individual or large corporation, A-1 Express will continue to offer the highest level of same-day delivery via web solutions, GPS Tracking, signature capture, and superior customer service.
Since 1997, A-1 Express has offered a wide range of same-day delivery and messenger services nationwide, including same-day delivery, nationwide courier services, same-day bike messenger service, multiple location courier services, mail and payroll route logistic solutions, long-distance freight same-day delivery, straight truck delivery services, less-than-truckload shipping and more.
A-1 Express is a premier same-day courier offering transportation and distribution services. From small packages to palletized freight, A-1 Express delivers fast! As a leader in the courier industry, their goal is to perform optimal courier logistic solutions and superior customer service every time. The courier provides same-day delivery successfully for over 1,500 clients, including Fortune 500 companies nationwide.