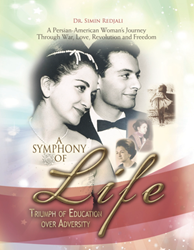 serves as a testament to the transformative power of education over adversity
Washington, DC (PRWEB) April 30, 2014
Life, like a symphony, is often made up of movements – distinct chapters that make up a greater whole.
And so it is with Dr. Simin Redjali's "A Symphony of Life", a social and historical autobiography that traces one woman's journey through the cultural and political turmoil of the last 70 years in Persia (Iran), Europe and the United States.
The book provides a unique portrait of the massive changes, struggles and triumphs of an immigrant – once a member of the elite in her home country and now a stranger in her new one – and promotes a hopeful cultural dialogue between the often-misunderstood peoples of the United States and Iran.
"A Symphony of Life" also serves as a testament to the transformative power of education over adversity, following Dr. Redjali's experiences as an NSF Fellow and Fulbright Scholar, her journey to US citizenship after the Iranian Revolution (granted because of her educational background) and her tireless work in establishing programs that promote education among children.
"My life's work has been devoted to education and teaching on many levels," said Redjali, who holds a Ph.D. in Educational and Clinical Psychology and today gives her time advancing services in the fields of mental health and intellectual disabilities in the State of Virginia. "My sincerest hope is that this book inspires others to learn more, teach others and stay curious about the world around them."
For more information, visit http://www.siminredjali.com.
"A Symphony of Life: Triumph of Education Over Adversity; A Persian-American Woman's Journey Through War, Love, Revolution and Freedom"
By Dr. Simin Redjali
ISBN: 978-1-4797-6532-4
Softcover, retail price: $22.99
Hardcover, retail price: $34.99
E-book price: $3.99
About the author
Dr. Simin Redjali received her Ph.D. in Educational and Clinical Psychology from the University of Heidelberg in 1961. After a post-doctoral Fellowship at the University of London she became the first women professor at the National University of Iran, an NSF Fellow and a Fulbright Scholar in the United States in 1966-1967.
Dr. Redjali worked tirelessly to promote the social status of women in Iran and as the Secretary General of the Women's Organization of Iran she helped establish more than 150 Family Welfare Centers throughout the country. In 1973 Dr. Redjali established Shemiran College, which provided three much needed new areas of study: early childhood education, family counseling, and welfare administration. After the 1979 Iranian Revolution, Dr. Redjali and her family were granted permanent residency and citizenship to the United States because of her education and international status.
Since then she has devoted her time to advancing services in the fields of mental health and intellectual disabilities in the State of Virginia as Fellow Center Director, Research Director, Clinical Faculty of MCV and Consultant and is the author of several books and articles written in three languages.
# # #