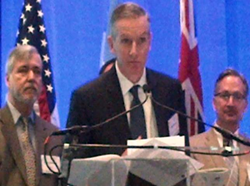 Plumbing is where water meets people.
Washington, DC (PRWEB) April 29, 2014
Plumbing experts are among the most "end-user" focused professionals in the water community. As stated by Pete DeMarco, International Association of Plumbers and Mechanical Officials, "Plumbing is where water meets people." Nancy Stoner, who heads EPA's Office of Water, agreed: "Our plumbing fixtures [are] how people are experiencing water. That's a contact people have every day."
Building water systems are having to deal with connections to aging water and wastewater systems and respond to changing regulations on treatment alternatives for different contaminants such as Legionella. Presenters recognized the role of building water systems not only for delivery of drinking water, but also water used for showers, and how the piping systems serve as conduits for travel of contaminants that can impact health through skin (dermal contact) and inhalation (bio-aerosols), contributing to outbreaks of diseases such as SARS.
Throughout the sessions, speakers noted the importance of considering the role of plumbing systems in public health beyond drinking water. Joseph Cotruvo, former DC Water Board Member, gave an example of how plumbing systems are tied to health impacts beyond just drinking water. In talking with WaterCitizen.Com, Cotruvo noted that, during the recent chemical spill in Charleston, West Virginia, the greatest health impacts were not from people drinking contaminated water.
"People weren't drinking the water – they could smell the chemicals. But they were still taking showers and using water in other ways. Most of the reported cases (of health impacts) were skin rashes from shower as well as inhalation. People got nauseous from the vapors."
There was also discussion of the conflicts and unintended consequences of water and energy conservation if reducing water use or temperature, or having stagnant water in the pipes, reduces the effectiveness of plumbing system designs intended to combat infectious diseases.
Bill Hoffman was one of the speakers who addressed innovative technologies for special appliances used in restaurants, such as "dipper wells" used for ice cream scoops – considering how new designs prevent accumulation of bacteria while reducing water and energy use.
The conference kicked off with recognition of American Standard Brands for their work with the Plumbing Efficiency Research Coalition. American Standard's VP Jim McHale spoke on their "Flush for Good" campaign, including their survey of American and Canadian awareness of the importance of toilets for sanitation and public health in North America and around the world.
The final presentation on the first day considered emerging issues in building wastewater systems, such as the clogging of pipes from "flushable." A panel of experts from private companies (Green Turtle America, InSinkErator, Kimberly Clark Corporation) and public wastewater agencies (National Association of Clean Water Agencies, DC Water) talked about the biggest challenges to wastewater systems, including public education and proper labeling of non-flushable paper goods, aging infrastructure, and opportunities to "mine" food wastes (especially "FOG" or "fats, oils, and grease") for renewable energy, as well as phosphorus – preventing those wastes from entering the wastewater treatment plants.
For more information on IETS (presentation PowerPoints to be posted by IAPMO soon):
http://www.iapmo.org/Pages/EmergingTechnologySymposium.aspx