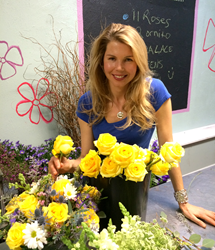 Now moms can have 'forever flowers' to go with their fresh flower bouquets!
Baltimore, MD (PRWEB) April 30, 2014
Repousse' Jewelry by Galmer, the young company featuring silver jewelry designed by the legendary Michael Galmer, introduces a new Delicate Collection in time for Mother's Day 2014. In collaboration with Sarah von Pollaro, PBS Flower Empowered host, the Delicate Collection features six flowers most requested by brides and moms this spring.
In intricately handcrafted pendants and earrings, fresh flowers can now be "forever" including: Sweet Anemone, Dogwood Blossom, Ranunculus Love, Garden Rose, Simply Gardenia and Wild Dahlia. Each pendant comes with a classic delicate chain, is hallmarked for enduring worth and is available in stores and on the Repousse' Jewelry website for $300. Earrings have comfortable omega-backs and are available for $450.
In particular, the heirloom appeal of Repousse' Jewelry is a hit with first time moms who've delivered girls in the past year. The company started in honor of the mother of its founder, Carolyn O'Keefe, Sally wore a signature sterling cuff inherited from her grandmother every day, every occasion. In seeking cuffs for herself and her two daughters, Carolyn combed antique stores and ebay with no success. Finally, she was introduced to world-renowned silver master Michael Galmer who created seven silver cuffs in botanical motifs, richly sculptural, using advanced techniques of repousse' (meaning "pushed from the back").
Each piece of The Delicate Collection bears the Galmer hallmark, meaningful due to the artist's extraordinary lineage of work, from twenty years of commissions for Tiffany & Co., complex assignments from historical societies and his own eponymous tabletop silver collected by connoisseurs worldwide.
On May 3, Sharfman's Jewelers in Worcester, MA, will debut the line during its exciting daylong Silver Show, and on May 8, DeScenza Diamonds in Hingham, MA, will host a Sterling Evening showcasing The Delicates. Repousse' Jewelry is also sold at fine jewelry stores listed on its website, including Tiny Jewel Box, DC; Radcliffe Jewelers, Baltimore; Works Gallery, Madison Avenue NY; Summerwind Jewelers in Portsmouth, NH and Donald Haack Fine Jewelry in Charlotte NC.