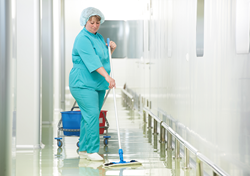 Lorna Osborn, Commercial Account Manager at Cleantec Innovation adds, 'We are excited to offer this free eBook – we continually seek to find ways to educate and inform our current and future customers.'
Sandwich, Kent (PRWEB UK) 1 May 2014
For many with a busy schedule, unpredictable working patterns and 24-7 occupancy, maintaining a high quality of standard in any nursing home can be difficult to achieve.
With Care Quality Commission (CQC) reports published on a weekly basis – positive or negative inspections can be accessed by anyone. The CQC will normally brief the local, national and trade media when enforcement action is taken or non-compliance has a major impact on people.
The CQC is the national health and social care regulator, responsible for assigning standards in care homes, acute hospitals and home-based care services. Responsible for carrying out inspections, as well as providing standards that should be met across a range of quality, safety and care. Some of these standards apply directly to cleaning.
If improvements are not made, the CQC has a range of enforcement powers, which include restricting the services that can be provided, or, in the most serious cases, suspending or cancelling a service. It can also issue financial penalty notices and cautions or prosecute the provider for failing to meet essential standards.
A children's hospital public risk rating gained national news coverage earlier this month when the hospital revealed a four million pound charity donation may not now proceed giving the negative coverage surrounding the band 1 'potentially high risk' rating. But CQC is standing by the rating given.
Good infection prevention and control are essential to ensure that people who use health and social care services receive safe and effective care. Effective prevention and control of infection must be part of everyday practice and be applied constantly by everyone.
The complete guide to cleaning and maintenance in care and nursing homes is a free downloadable eBook, put together by Cleantec Innovation. It highlights problem areas and offers advice for effective cleaning. This best practices eBook is full of tips and strategies on how to clean to the CQC standards including hard floors and walls, carpet, rug and upholstery cleaning.
Chemical cleaning within care homes is also explained and discussed. All employees within the care industry will find this eBook to be very useful as a guide or reference point with their own cleaning efforts.
Lorna Osborn, Commercial Account Manager at Cleantec Innovation adds, "We are excited to offer this free eBook – we continually seek to find ways to educate and inform our current and future customers. This eBook provides the best practices for all care service cleaning."
Visit the Cleantec Innovation website to download the eBook.
About Cleantec Innovation
Cleantec Innovation, based at Discovery Park in Sandwich, is fast becoming increasingly renowned in the commercial and retail cleaning market for its high-performance green products. Established in 1996, sustainability is at the centre of the design strategy for all its products and services.
The Hygiene & Infection Control Best Practices eBook should be used as a guide only for routine cleaning and maintenance.