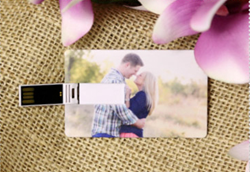 Cockeysville, MD (PRWEB) May 12, 2014
Already known for its creative, chic photo prints and wide range of photo products, Artsy Couture is happy to announce a new exclusive offering: customized 8GB USB drives. With overall dimensions the size of a standard business card (2" x 3.25"), these USB drives provide photographers with a fun, their work or logo, further personalizing their packages for clients.
"Just like when we brought the Custom Presentation Boxes to the market, we are excited about a new way to help photographers distinguish what they give clients," said Lauren Manning, Founder and Co-Owner of Artsy Couture. "With these new USB drives, you have a way to turn a functional tool into a showcase for either your logo or one of the client's photos. It's a way to really make a photo package stand out."
When photographers order their custom USB drive through Artsy Couture, it's printed and shipped within a matter of days. The drive is shipped to the photographer, who then loads it with their client's images. If order with a box and prints, all items are shipped together to create a one-of-a-kind presentation. Once the client receives the usb, he or she plugs the drive into their computer and then can easily access their photos from their photographer. In addition to the 8GB custom USB drive, Artsy Couture plans to launch additional sizes soon.
The way the drives work is this: A photographer orders a card, either on its own or with a custom presentation box, which is then printed by Artsy Couture within a matter of days. The drive is shipped to the photographer, who then loads it with client photos, and, if he or she has ordered a custom box, packs it into the custom packaging. Once the client receives it, he or she plugs the drive into a computer and then easily accesses the photos inside. In addition to the 8GB-sized custom USB drive that Artsy Couture now offers, it also plans to make more sizes available soon.
Each custom USB drive features a full side of printing and is made to fit easily into any USB port on any computer. Ordered individually, one drive is available for just $21.25, with a print turnaround time of two to three business days. Ordered along with a 5" x 7" custom presentation box, a drive costs $28.45 and is printed within three to four business days. As with other Artsy Couture products, customers take their pick of shipping options, as budget and timing dictates.
"Together with our Custom Presentation Box, the drives make a pretty pairing — the perfect finishing touch to a completed photography package," Manning said. "We're excited about the ways photographers will use these to add value to their photo services and improve what they offer their clients. Who wouldn't love getting a custom box with a custom drive, both showcasing photos from your shoot?"
About Artsy Couture
Artsy Couture is a professional photo-printing company that provides chic photo products to photographers. From its canvas gallery wraps to its just-launched custom USB drives, Artsy Couture gives photographers plenty of options for creating impressive boutique products to wow their clients. It even offers custom options for adding text, color, and/or dates to photo prints. To learn more about Artsy Couture, visit its website (http://www.ArtsyCouture.com), or follow Artsy Couture on Twitter (http://twitter.com/ArtsyCouture).