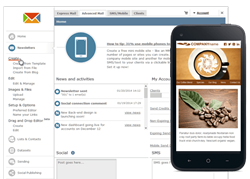 The Email Creator automatically re-sizes newsletters to mobile screens, aligning both message and images.
Miami, Florida (PRWEB) April 30, 2014
GraphicMail is rolling out their new, fully responsive Email Creator. The company's core services being creation, sending and analysis of email newsletters, their focus is set on making sure email flyers and newsletters render well on tablet and mobile screens.
The majority of their clients see their email newsletters opened on more mobile devices than ever before. A trend that is only on the increase, according to the group's CTO Ernie Retief. "The US Consumer Device Preference Report stated in January this year, that 65% of all emails were opened on a mobile phone or tablet. We see the same trend among our clients' subscribers."
The adaption of consumers and businesses to mobile phones is not just an industry trend. It's a technological revolution that changes the way people communicate, interact and buy. The January 2014 report by We Are Global states that regional mobile penetration is already between 67% (Africa) and 129% (Western Europe).
GraphicMail recognizes this cultural change as integral part of their technological innovations. An early mobile adapter in the direct digital marketing industry, they reacted to Forbes' and other trend researchers' reports by implementing mobile tools that help businesses get their message out to where it reaches today's consumers. According to VentureBeat, 65% of all email is opened first on mobile devices (February 2014). Forbes reports that mobile is changing business drastically this year: cloud providers like GraphicMail who provide connectivity from mobile devices, and communication tools adapted to the mobile environment, will be at an advantage. (Drew Hendricks report October 2013).
"Our new Email Creator helps our clients -- mostly small business, but also agency resellers -- to create newsletters that look fantastic on mobile devices. It's packed with dozens of responsive email templates: templates that stack well on small screens and need absolutely no HTML code changes by our clients themselves. The Email Creator automatically re-sizes newsletters to mobile screens, aligning both message and images," says Nicholas Eckert, group CEO.
GraphicMail's purpose is to help small businesses, corporates , agencies and non-profits to grow their business via email marketing. Coupled with their mobile and social publishing tools and integrated sending infrastructure, they look to offer their clients the most intuitive, fast and reliable direct marketing services.