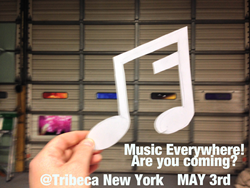 From Balkan fusion, Sicilian Jazz sounds, Armenian groove to Brazilian Bossa nova and Middle Eastern Flavor!
New York, NY (PRWEB) April 29, 2014
Jazz goes global at the Made in NY Jazz Gala with one of most diverse lineups of jazz performers ever assembled in one place. From Balkan fusion to Brazilian bossa nova, the jazz sounds filling the stage at the Tribeca Performing Arts Center on Saturday, May 3 will make this concert a truly unique, not-to-be missed event. This gala marks the culminating event of the first annual online Made In New York Jazz Competition, which was held entirely online and allowed new jazz talent from all over the globe to be brought to the attention of a worldwide audience.
Tickets Available Here: http://bit.ly/1p1n4NV
The winners performing in New York:
First place winner Anita Vitale, whose acoustic performance of Jon Hendricks' "Centerpiece" with Bobby McFerrin was the competition committee's choice before becoming the selection of judges Lenny White, Joe Lovano and Randy Brecker.
Evgeny Lebedev, is a Russian-born pianist who studied at the Russian Academy of Music and also at Berklee College of Music. He has performed as a soloist at jazz festivals and concerts in Russia, Germany, England, Switzerland, the Netherlands, Belgium, Spain, Estonia as well as in the U.S. In 2009 he teamed up with American drummer Lee Fish and Israeli bassist Haggai Cohen Milo to form his World Trio which took the second place in the competition.
Tickets Available Here: http://bit.ly/1p1n4NV
The gala concert will also feature a lineup of other Made In New York jazz competition entrants whose video performances wowed the Internet – emerging jazz artists from all over the world: Pablo Elorza from Argentina, Ricardo Baldacci from Brazil, Rozina Patkai from Hungary, Vladimir Maras Band from Montenegro, Nick Vintskevich from Russia and Miqayel Voskanyan Band from Armenia. For many of these musicians, this performance marks their U.S. debut, and they've received help from their respective governments to travel to New York to showcase their country's talent in one of the largest cities on earth.
Taking the stage alongside these rising stars are jazz legends who also served as judges for the Made in NY Jazz contest: drummer Lenny White, who kicked off a long and stellar career by appearing on Miles Davis' "Bitches' Brew", trumpeter Randy Brecker, who has won multiple Grammy awards for his amazing work and the art director of the competition Yaacov Mayman.
For a limited time you can get a 10% discount on concert tickets with the code: gala14#jazz – just visit TRIBECA Ticketing Services for details: http://bit.ly/1k5ayrX.
Made In New York Jazz Competition partnered with KAWAI USA—the future of the piano®—in 2013. This significant corporate partnership between the Made in New York Jazz Competition and KAWAI Musical Instruments USA will help promote and nurture the next generation of global jazz musicians.
KAWAI USA provides elegant KAWAI ES7 Portable Digital Piano and the powerful KAWAI MP6 Professional Stage Piano to the Competition's second and third-place finishers!
About KAWAI Musical Instruments USA—the future of the piano®
KAWAI is the internationally regarded creator of elite pianos. KAWAI has always represented the highest levels of piano craftsmanship since its founding by Koichi Kawai in 1927 and the later establishment of the KAWAI America Corporation in 1963. KAWAI's sterling global reputation for creating instruments of perfection rests upon our history, which has been shaped by generations of commitment, and is dedicated to the pursuit of perfection for generations more to come.
About the Made in New York Jazz Competition
The Made in New York Jazz Competition is the world's first and fastest growing online jazz competition. Competition entrants upload video performances in as many of the seven jazz-genre categories as they wish. Registrants vote for their favourite performances. Finalists are selected through a combination of online votes and the Competition's Board of Members, which is comprised of highly regarded jazz musicians. The judges, multiple Grammy Award winners Lenny White, Joe Lovano, and Randy Brecker, selected our 2013 winners. The 2014 Competition has now been opened to entrants worldwide. Please visit http://www.madeinnyjazz.com for details.