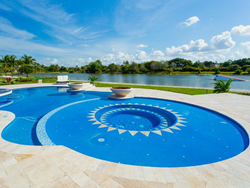 "The feedback we have been receiving from the public further demonstrates that Ivory Swirl™ Travertine Pavers are quickly becoming America's New Choice for Pool Deck Pavers."
Miami, FL (PRWEB) April 30, 2014
Travertine Mart has reported extraordinary nationwide demand for it's exclusive Ivory Swirl™ Travertine Pavers after their selection as the Official Pool Paver of Vanilla Ice Project's Season 4 on DIY Network, which premiered on March 8, 2014.
The 13-episode series showcases Vanilla Ice as he renovates an outdated mansion on a high-dollar lakefront property in Palm Beach. In order to renovate, flip the house and turn a profit, Vanilla Ice and his crew must overhaul this diamond- in-the-rough into a luxurious palace suitable for a rock star.
Since the feature of the Ivory Swirl™ Pavers on the "Poolside Pump Up" episode, Travertine Mart received enthusiastic interest from homeowners, contractors and distributors alike. Many people were surprised to learn that they will spend less than what they would for concrete or brick pavers if they installed Travertine Mart's exclusive Ivory Swirl™ Travertine Pavers, which are heat-resistant, non-slip, and 100% natural.
"The feedback we have been receiving from the public further demonstrates that Ivory Swirl™ Travertine Pavers are quickly becoming America's new choice for pool deck pavers." said Evrim Oralkan, Travertine Mart's President. Ivory Swirl™ Pavers are not only a naturally beautiful direct-from-earth product, but they also offer great functionality as pool deck pavers. Travertine Mart provides the largest variety of travertine products online at wholesale prices, from travertine pavers and travertine tile to travertine pool coping.
The series features Vanilla Ice's latest house-flipping project: a 6,300 square-foot home surrounded by unfinished landscaping. It sits on the shore of an exclusive training lake for water skiers and is surrounded by beautiful million-dollar homes. The exclusive location comes with a hefty price tag and Vanilla Ice must find cost-effective ways to achieve his grand visions for the estate. The infinity-edge pool was designed from scratch and, being a major selling point, Vanilla Ice couldn't cut corners with just any pool pavers. He chose Travertine Mart's Ivory Swirl™ for its versatility, porosity, and curb appeal.
ABOUT TRAVERTINE MART - Travertine Mart ® is a boutique online flooring company specializing in premium grade Travertine Pavers, Tiles, and Pool Coping servicing homeowners, contractors and distributors. Travertine Mart ® has been selected by Inc. Magazine as one of the Inc. 5000 Fastest Growing Companies in America two years in a row (2012 and 2013). The company has also been nominated for a 2013 Edison Award for their innovative Virtual Patio Designer.
For more information about Travertine Mart please visit http://www.TravertineMart.com or call (800) 556-9720.
ABOUT DIY NETWORK - DIY Network, from the makers of HGTV and Food Network, is the go-to destination for rip-up, knock-out home improvement television. Currently in more than 58 million homes, DIY Network's programming covers a broad range of categories, including home improvement and landscaping. The network's award-winning website, DIYNetwork.com, consistently ranks among America's top home and garden Internet destinations for entertaining videos, home improvement advice, step-by-step instructions, message boards, blogs, an interactive program guide and more. Headquartered in Knoxville, Tenn., DIY Network is wholly owned by Scripps Networks Interactive, Inc. (SNI).