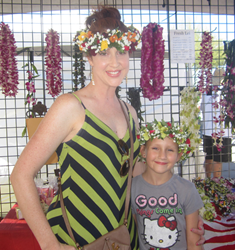 Honolulu, HI (PRWEB) April 30, 2014
The long standing tradition of sending Mother's Day flowers is not yet a thing of the past. In fact, more flowers are sent on Mother's Day than any other holiday. However consumers are looking for new and unique flowers. They don't want to send the same old bouquet. That's where Hawaii Flower Lei comes in.
"Flower leis are definitely gaining popularity for Mother's Day," says Hawaii Flower Lei President Emily Steele. "Each year we've seen our numbers go up."
The company has hundreds of lei designs to choose from and takes orders months in advance for this busy week.
Orders may be placed at the company website http://www.HawaiiFlowerLei.com or by calling direct (808) 833-7807 or toll-free 1-800-665-7959.