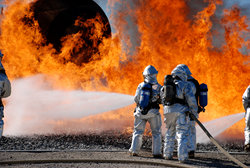 Victor, New York (PRWEB) April 30, 2014
Firefighting garments require specialized care and cleaning in order to remove chemical, biological, and combustion toxins. Industrial washing machines effectively clean standard turnout and bunker gear, but even the most durable garments break down over time from the aggressive physical and chemical scrubbing that characterize the standard industrial cleaning process.
Effectively cleaning aluminized proximity gear is an even more challenging process. Standard industrial cleaning procedures quickly degrade layers of aluminized protection, leading to nearly a complete loss of radiant heat protection. Even when proximity garments maintain their shiny, silver appearance after being washed, they have still lost a significant percentage of their protective value. Traditionally, the safest cleaning method has been to manually clean the surface of the aluminized gear using soft damp cloth; however, this procedure is not effective as it does not remove all hazardous toxins from the garment.
Newtex Industries, a leading provider of specialized materials for firefighting and industrial heat protection, has recently completed a 3-year study to identify a safe and effective way to clean proximity gear. In partnership with Omegasonics (http://www.omegasonics.com/), a manufacturer of specialized ultrasonic washing machines, Newtex can certify that Z-Flex® proximity suits can be quickly, safely, and thoroughly cleaned using these ultrasonic washing machines with a low impact wash cycle. After dozens of trials at various durations, we have determined that Z-Flex® does not exhibit any decline in radiant heat performance after being cleaned with ultrasonic technology.
"It's exciting to finally have a technology that truly cleans aluminized proximity garments safely", said Doug Bailey, who heads product development at Newtex, "but more importantly, these machines are inexpensive and can also be used to clean boots, gloves, and helmets."
Mr. Bailey went on to emphasize the importance of this development, "The idea of putting aluminized proximity shells in a washing machine for cleaning or to test for durability has never been a good idea. It always had an immediate detrimental impact on reflectivity and performance. Until today, however, the garment makers felt it was all they could offer."
About Newtex
Since 1978, Newtex has been a pioneer and leading global producer of high performance textiles for thermal management and fire protection. Newtex is an ISO 9001:2008 certified vertically integrated manufacturer, coater, and laminator of an impressive portfolio of insulation and heat resistant fabrics, tapes, ropes, tubing, glass yarn, PPE, and custom engineered high temperature solutions. Newtex is headquartered in a 100,000 square foot high-tech facility just outside of Rochester, New York.