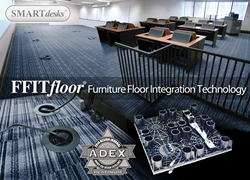 A room installs in a day. Move outlets as easily as moving the furniture.
Baltimore, MD (PRWEB) April 30, 2014
CBT-SMARTdesks is a Platinum winner of two 2014 Awards for Design Excellence [ADEX]. FFIT Floor for AV, data and power distribution under floor, and Trapeza Modular Conference Tables.
The 2014 ADEX Awards brought in a record 2,852 product entries from over 500 different companies. ADEX is the largest and most prestigious awards competition for product design of furnishings marketed to the design trade.
Furniture Floor Integration Technology (FFIT) Computer Floor
Designer carpet fits together like interchangeable parts, mounted to pedestals that create a space in the floor for routing power and data cables to the users in the room. Outlets can be picked up and moved to new locations and the cable buried under neighboring tiles. Permits easy configuration and arrangement of technology furniture, such as the flipIT Touch SMARTdesks. Each flooring pedestal holds over 50,000 LBS. Installs in a day, typically. UL Certified power cables and outlets snap together without trade labor.
The FFIT Computer Floor solution is non-invasive to historical structures, requires no demolition, such as the removal of existing wire or existing carpeting. Changes are made in minutes without involving expensive trade labor.
Those who conduct different types of activities in the same space want the ability to change the arrangement. Using conventional construction methods for routing power and data, the arrangement must be fixed. FFIT Floor allows the total flexibility in the architectural space. Outlets for power and data can be moved as easily as the furniture. The entire floor system may be moved to another room or another facility. Because it is not a permanent part of the building structure, it can be depreciated as quickly as furniture instead of over 39 years for buildings.
The SMARTdesks Design Team supports the engineering of the FFIT Floor components to support the furniture in the space. A detailed schematic is provided, accounting for every square of carpet every length of cable, every outlet—all placed to fit the default furniture arrangement in the space. Cables have extra length to allow easy repositioning of the outlets for future use.
Trapeza Modular Conference Tables
Trapezoidal table tops, assembled together at multiple heights, which serve as a long conference table, or smaller configurations with Trapeza elements used along walls for other services. Power/data connection pop-up installed for technology convenience as desired.
Trapeza's unique shapes combine to make a fresh landscape to help people team, communicate and empower creativity. The table elements are available at two heights to serve multiple functions. Taller tables can be placed along walls or in small arrangements to be used as serving tables, or a centerpieces to tables used for sitting arrangements. SMARTdesks has a full range of options for supporting the use of AV controllers, device connectivity and sound reinforcement. The client and IT integrator can easily specify the technology to be integrated and the SMARTdesks Design Team can present the customized solution. Communication is facilitated by the SMARTdesks Design Cloud, which can be easily accessed online. Services are provided at no additional cost and without obligation to purchase.
SMARTdesks designs and manufactures innovative, custom computer conference tables and computer classroom furniture. Each product is made to order, nuanced for the technology, purpose and interior design choices for the space. SMARTdesks is the patent holder for flipIT® products and is the sole source for flipIT and factory integrated flipIT furniture products. Serving universities, corporations, government and military clients world-wide, SMARTdesks furniture is made in the USA using Certified GREEN manufacturing methods. For more information, contact smartdesks through the web site— http://www.smartdesks.com.
ADEX stands for Awards for Design Excellence and is the largest and most prestigious awards program for product & project design in the A&D industry.
Design Journal, the international trade resource for interior designers, architects and facility managers since 1988 is the proud sponsor of the ADEX Awards.