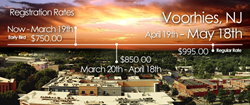 The NeedleLogics hands-on course really helped to achieve that end! The device makes light work of an important task, making both the operator and client look good.
Marlton, NJ (PRWEB) May 08, 2014
On May 2nd, 2014, NeedleLogics published a press release stating incorrectly that two upcoming NeedleLogics Education Workshops and Dermapen Certification Courses would be presented by the Rizzieri Aveda School for Beauty and Wellness, in Voorhees, NJ. The correct host and presenter of the courses will be A Medical Spa at Rizzieri, 6001 Lincoln Drive West, Marlton, NJ 08053.
NeedleLogics Education Workshops and Dermapen® Certification program covers the history and discovery of the micro-needling or per-cutaneous collagen induction (PCI) phenomenon. This is also communicated as collagen induction therapy (CIT). PCI is based on over 15 years of research from dermatologists and plastic surgeons all over the world.
This Dermapen certification course will take a look into the history of skin micro-needling and provide an overview of what the current science of micro-needling is offering to the aesthetic and cosmetic community today.
Course Overview:
· 6-7 hour live session
· The history, improvements and leaders in skin micro-needling
· The future of skin micro-needling
· Dermapen products and use protocols
· Dermapen treatment guidelines
· Adverse and contraindications for micro-needling
· Dermapen before and after patient care
· Dermapen treatment demonstrations
· Practical hands on training
· Comparative and adjunctive skin therapies available for combination methods
· Exam activities and practical test exercises
The Dermapen skin micro-needling treatment offers exceptional results and is suggested as a stand-alone treatment, however it also supplements the traditional treatments offered in most aesthetic practices such as fractional laser resurfacing, chemical peels, dermabrasion and more. This certification program will set the standard for medical and aesthetic professionals to extend their education to include micro-needling fractional dermabrasion and increase their opportunities and list of services. Certification courses are designed for medical doctors, nurses, medical aestheticians and ancillary staff.