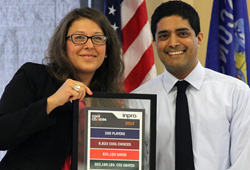 'We were delighted with the level of participation at Inpro,' said Kathy Kuntz, Executive Director of Cool Choices.
Milwaukee, WI (PRWEB) April 30, 2014
This spring Inpro employees competed to see which employees could best conserve resources at work and at home. By partnering with Cool Choices, a nonprofit organization that promotes environmental sustainability practices through an interactive game, Inpro found a unique way to engage its employees in making sustainable choices.
"Our Corporate Sustainability Team recognized that Cool Choices offered an opportunity to further engage employees in our company-wide sustainability commitment," said Amanda Goetsch, Environmental Sustainability Manager, Inpro. "Cool Choices helped make sustainability more personal and fun for employees – helping them see that they can make a measurable difference – and aligning employee values with Inpro's sustainability commitment across the organization."
With approximately 400 employees at its headquarters, Inpro manufactures interior and exterior architectural products. More than half of Inpro employees participated in the Cool Choices game, adopting new actions and maintaining existing practices that together will save more than $198,000 annually.
"We were delighted with the level of participation at Inpro," said Kathy Kuntz, Executive Director of Cool Choices. "Nationally companies struggle to engage even 20% of their workforce in organized programming, and manufacturing settings can be especially challenging. At Inpro, though, folks from the factory floor to the C-suite joined teams and participated actively throughout the eight-week game. They had fun, they got substantive results and they cemented their shared commitment to sustainability. Inpro provides a terrific example of the power of employee engagement around sustainability."
The Inpro game concluded on April 24, 2014 with a company-wide celebration lunch. Over 150 employees attended the celebration to see award winners and share game stories.
About
Cool Choices
Cool Choices inspires and assists individuals, communities, and businesses to adopt practices reducing their greenhouse gas emissions. Cool Choices innovative employee engagement game seeks to make sustainable choices the norm by making them fun, social, and easy. For more information, visit http://www.coolchoices.com.
Inpro
Since 1979, Inpro has been making and servicing products with an obsessive commitment to protecting the appearance of buildings and the health and safety of the people who use them. Based in Muskego, Wisconsin, Inpro is the nation's premier manufacturer of door and wall protection, washroom systems, expansion joint systems, privacy systems, and architectural signage.