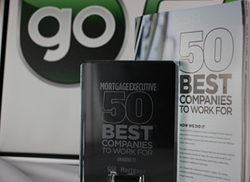 Brookfield, WI (PRWEB) April 30, 2014
GSF Mortgage is honored to be named among Mortgage Executive Magazine's 50 Best Companies To Work For.
Mortgage Executive Magazine conducted the most extensive loan officer survey in Corporate America. More than 160 mortgage companies and banks participated and more than 8,000 loan officers were surveyed.
The surveys were limited to licensed mortgage loan originators that are presently employed by the companies that were rated. The survey asked the loan originator to rate the company's culture, loan processing, underwriting, compensation, management, marketing and technology.
"Our executive and operations staff pour every bit of energy and effort possible to make sure that our originators have the resources they need to build a successful business. It is gratifying to know that it is noticed and appreciated. It is great to be a part of "TeamGO."
Congratulations to everyone included on the list it's a real honor to be listed among them. We will see you all in Vegas!" says GSF Mortgage President, Chad Jampedro.
# # #
Founded in 1995, GSF Mortgage is an established and experienced direct mortgage lender. With nearly 20 years of lending experience, GSF professionals originate, process, underwrite, and fund all loans. We have direct access to FHA, VA, USDA, FNMA and Jumbo Financing products. GSF Mortgage has provided successful financing solutions to borrowers in all phases of homeownership. We continue to serve the next generation of homeowners with the GOGSF brand focused on flexible and transparent mortgage lending. With many locations, our strengths keep GSF Mortgage "Lending in Your Favor."